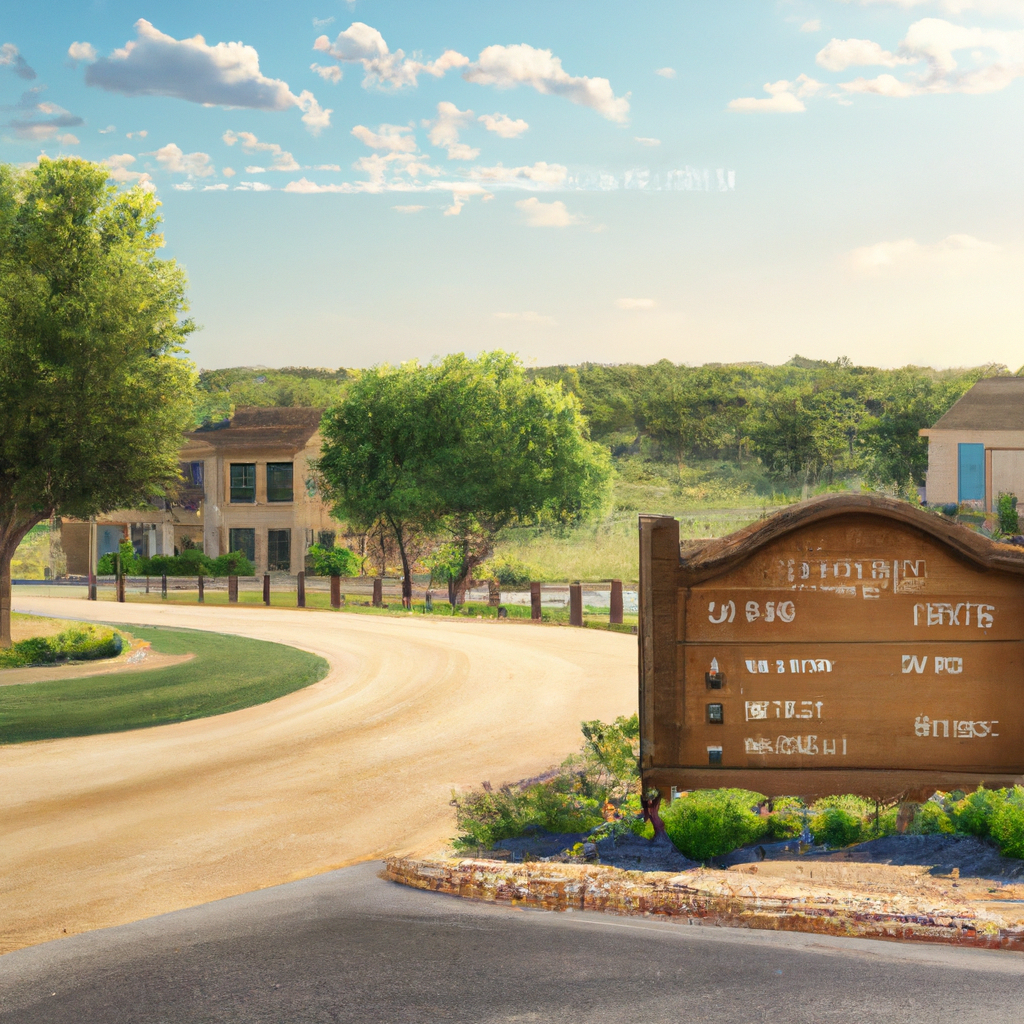 Overview of Boot Ranch, Fredericksburg TX
Boot Ranch is a luxe private club located in the rolling hills of the Texas Hill Country in Fredericksburg. Members have access to an 18-hole golf course, exquisite dining options, tennis courts, a fitness center, and spa services.
The custom-built homes and luxurious suites blend with nature's beauty for a serene atmosphere that complements the scenery.
What sets Boot Ranch apart from other clubs is its passion for eco-sustainability and preservation of nature. Awards have been won for its conservation efforts.
Forbes Travel Guide has named Boot Ranch one of Texas' best country clubs, providing a unique experience for members and guests. Enjoy all the amenities, and you might forget you're in Texas and not a Caribbean paradise!
Boot Ranch amenities and facilities
Boot Ranch is a luxurious residential community in the beautiful Fredericksburg TX area. The community offers several exclusive amenities and facilities that cater to the needs of residents.
Boot Ranch amenities and facilities include:
The 18-hole golf course designed by Hal Sutton
Club with multiple dining options
Spa
Fitness center
Tennis courts
Multiple pools
Additionally, residents can enjoy outdoor activities such as fishing in one of the many private lakes or hiking on scenic trails. Boot Ranch offers unique amenities such as their 55-acre Lake Club, which features a variety of water activities, from swimming and kayaking to jet skiing. The community also hosts numerous events throughout the year such as wine tastings and culinary events, showcasing the region's local produce and wines.
One resident shared their experience with Boot Ranch's hospitality during a family event at the Lake Club. The resident praised the staff's attention to detail and overall experience showcasing the community's dedication to provide exceptional service to its members. Who needs a caddy when you've got hills, trees, and a pack of coyotes to guide your golf game at Boot Ranch?
The Boot Ranch Golf Course
The Golf Course at Boot Ranch is exquisite. It has 18-holes spread over 7,000 yards. Greens, water features and bunkers pose a challenge to all players. The course also has a state-of-the-art practice facility with indoor hitting bays and golf simulators.
Hal Sutton designed the layout with classical styling and natural landscape features. This earned top recognitions in Golf Digest rankings multiple times.
Hole #10 stands out for its view of the Texas Hill Country. It's a photographer's paradise. Guests can explore culinary delights at the Clubhouse restaurant.
Book a session today and enjoy a game of golf amidst nature's beauty at Boot Ranch. Dining options satisfy your stomach and Instagram feed.
Dining options at Boot Ranch
Boot Ranch offers amazing food experiences for residents and visitors. Choose from gourmet restaurants, cafes and bars to suit different tastes. Check out the table below for an overview of the dining options available.
| Dining Option | Type of Cuisine | Operational Hours |
| --- | --- | --- |
| Clubhouse Restaurant | Southern-style with contemporary flair | Breakfast, lunch, dinner daily |
| Lake Club Cafe & Grill | Casual American with exceptional lake views | Lunch daily |
| Ranch Kitchen | Farm-to-table with local ingredients | Dinner on select nights |
Plus, there are private catering services for special events like weddings and corporate gatherings. The chefs ensure that every meal is unforgettable.
The Clubhouse Restaurant was designed by Don Ruggles – a renowned architect. He blended Texan architecture into the design. The restaurant overlooks the Hill Country and has an outdoor terrace with stunning natural views.
If you want a home with incredible amenities, Boot Ranch is the place for you. Even the squirrels have hot tubs!
Real estate options at Boot Ranch
Real estate offerings at the Boot Ranch community cater to distinct preferences. Prospective buyers have an array of choices such as standalone homes, estate home sites, and shared ownership options, all within the confines of the scenic Texas Hill Country.
A table that outlines the various real estate options at Boot Ranch is provided below:
| Real Estate Option | Description |
| --- | --- |
| Standalone homes | Single-family houses that range from 2,300 to 6,000 square feet situated within 3/4 to 1.5-acre lots. |
| Estate home sites | A collection of 150 homesites measuring 1 to 14 acres, perfect for building a custom home as per the owner's preference. |
| Shared ownership | Fractional ownership of a luxurious 3,000 square feet Sunday House. This option offers a unique opportunity to enjoy the estate's amenities without maintaining a full-time residence. |
The community offers various perks like two clubhouses, an 18-hole championship golf course, and access to a private lake club amidst rolling hills, creeks, and wildlife.
Pro Tip: Buyers looking to build their dream home can work with local architects and builders facilitated by Boot Ranch's in-house team.
If you're looking for a home that screams 'I have impeccable taste', look no further than the custom homes at Boot Ranch – just don't be surprised if your guests never want to leave.
Custom homes
At Boot Ranch, you'll discover a variety of luxurious options. You can bring your dream home to life with the help of expert artisans. Crafted with care and quality materials, these homes are a masterpiece of style, comfort, and functionality. You can opt for either a grand lodge-style estate or an intimate hillside retreat. Plus, you'll be surrounded by nature – with breath-taking views that will make you forget to breathe! And, you'll have access to the 2,000 acres of amenities, such as golf courses, swimming pools, and trails. Boot Ranch offers a unique opportunity to experience the best of Texas Hill Country.
Villas
At Boot Ranch, 'Abodes' are luxurious dwellings amongst plentiful real estate options. These villas combine modern extravagance with rural allure. Each one has an outdoor living area, which includes a private plunge pool, for the ultimate serenity and privacy.
Take a look at the table below for the various sizes, bedrooms, and locations of Villas in Boot Ranch:
| Villa Type | Size(sq ft) | Number of Bedrooms | Location |
| --- | --- | --- | --- |
| The Casey | 2,350 – 3,005 | 3-4 | The Retreat |
| The Sterling | 2,604 – 2,843 | 4-5 | Hill Country East |
| The Meridian | 4,500+ | 5+ | Golf Course |
The Villas in Boot Ranch offer amazing features and amenities. These include high-end appliances and fixtures, breathtaking views of the surrounding area, and access to championship golf courses. The mid-2000s saw the birth of the 'Villas' in Boot Ranch, providing an exquisite and luxurious living experience. Live like royalty with estate homes at Boot Ranch!
Estate homes
At Boot Ranch, luxurious and spacious homes are available that define sophistication, elegance and lavishness. These Estate Homes offer comfort and style, with modern technology and architectural mastery. High ceilings, wide windows, premium finishes and ultra-modern appliances create a blissful sanctuary amidst a magnificent landscape.
Up to six-bedroom floor plans will accommodate every lifestyle need. The amenities are incredible – wraparound porches, private pools, outdoor living spaces and more. Plus, homeowners can customize their house design according to their specifications. Themes like French Country home or Texas Hill Country home are available, reflecting Texas's heritage while also offering modern comforts.
One homeowner shared her experience at Boot Ranch Estate Home: "Every day feels like a vacation! We love the amenities including golfing and swimming. Our kids are growing up here with memories and stories they'll cherish forever." The only thing missing from the Boot Ranch clubhouse is a secret room for hiding from in-laws during family vacations!
The Boot Ranch Clubhouse
Welcome to Boot Ranch, an elite residential community in Fredericksburg TX. Its main hub, The Clubhouse, is the central gathering spot for members. It boasts upscale amenities such as multiple dining options, a fitness facility and a resort-style pool.
Inside, members can enjoy casual or fine dining while taking in sweeping Hill Country views. Plus, there're plenty of spaces for socializing like private meeting rooms and a lounge area with a cozy fireplace.
Outside, The Clubhouse has an iconic veranda that overlooks the 18th hole of the golf course. Perfect for enjoying cocktails and watching spectacular sunsets! On cooler days, members can stay warm by using one of the many fire pits located throughout the property.
Pro Tip: Don't forget about Boot Ranch's extensive wine program which includes private labels only for members! So join now and start sipping whiskey while admiring the gorgeous Texas Hill Country.
Boot Ranch membership
Boot Ranch Membership: A Comprehensive Guide
Joining Boot Ranch, located in Fredericksburg TX, provides one with a unique opportunity to indulge in an exclusive lifestyle. Members enjoy access to world-class amenities, including a luxury spa, clubhouses, and fishing lakes. Apart from this, the community is known for its award-winning golf course and exquisite dining options.
Beyond the lavishness of the facilities, members are a part of a tight-knit community bonded by their shared interests in golfing, outdoor adventures, and culinary delights. The club offers various membership plans tailored to fit one's lifestyle, ranging from golf to social memberships. Members also have the chance to participate in exclusive events, such as wine tastings and concerts, hosted by the club.
As an added extra, members can take advantage of Boot Ranch's concierge services, which cater to their unique needs. These services include housekeeping, childcare, and transportation arrangements, amongst other offerings.
At Boot Ranch, stories abound, with members reminiscing about special memories made while indulging in the surrounding countryside. One member shared how they met their best friend while playing golf. They reminisced, "Over the years, we've spent countless summer nights roasting s'mores, marveling at the stars, and rehashing old stories. It's the kind of stuff that movies are made of."
In summary, Boot Ranch is more than just a country club, it is a gateway to a distinctive lifestyle immersed in luxury and camaraderie. Whether you're a die-hard cowboy or just want to impress your city slicker friends, Boot Ranch has a membership for every level of wannabe Texan.
Types of Boot Ranch memberships
Boot Ranch is an exclusive private club situated in Texas Hill Country. It offers various memberships with access to outstanding amenities and facilities. Perfect for retreats, getaways, and social gatherings!
Full Golf Membership: Unlimited use of the golf course and its facilities like clubhouse dining and events.
Sporting Membership: Access to all sporting amenities and outdoor activities like equestrian, fishing, shooting sports, tennis and fitness center.
Family Social Membership: Access to numerous social events at the clubhouse or around the Boot Ranch community.
Corporate Group Membership: Companies can entertain clients or host business retreats in a luxurious club setting.
Plus, unique benefits come with each membership. Like guest cottages! One member shared how her family's annual stay has become an irreplaceable tradition! Enjoy rolling hills, local wine, and cuisine together. Join Boot Ranch and enjoy perks that make your non-member friends jealous!
Membership benefits
As a Boot Ranch member, you gain access to privileges that make your experience top-notch! From the golf course to the entire community, here are some of the benefits:
Unlimited access to the luxurious clubhouse
Premium golf with scenic holes
Practice facility with changeable turf conditions and green views
Fitness center with state-of-the-art tech and amenities
Resort-style pools with cabanas and poolside service
Personalized concierge service tailored to your needs.
Boot Ranch members enjoy privacy and a stunning Texas Hill Country backdrop. There are events all year round, like wine tastings and holiday parties, that foster family bonding.
Maximize your membership! Participate in daily activities, arrange private gatherings with available resources, and utilize concierge services. Get invited to one of their community events – even more exclusive than being a member!
Boot Ranch community events
Boot Ranch, Fredericksburg TX, hosts various exciting events for its community throughout the year. These events are a great opportunity for the residents and visitors to engage in fun activities and socialize with each other. Here's a glimpse of some of the events that Boot Ranch community hosts:
Fun-filled Family Carnival – Every summer, Boot Ranch hosts a family carnival where residents can enjoy thrilling rides, games, and delicious food. This is a perfect opportunity for families to have a great time while creating beautiful memories.
Golf Tournaments – The community hosts several golf tournaments throughout the year, including a charity golf tournament. These tournaments are a great way for golfers to test their skills and compete while socializing with other community members.
Fine Dining Events – Boot Ranch's clubhouse hosts various high-end dining events throughout the year. These events offer a perfect setting for couples or friends to enjoy a luxurious dining experience.
Holiday Celebrations – Boot Ranch community celebrates all major holidays, including Halloween, Thanksgiving, Christmas, and many others. These celebrations include festive decorations, delicious food, and fun activities for all ages.
Wellness Events – The community also hosts a range of wellness events, including yoga sessions and cooking classes, to promote a healthy lifestyle among the residents.
Pro Tip: Keep a check on the Boot Ranch calendar for upcoming events and plan ahead to make the most of community living. Participating in these events is an excellent way to make new friends and build a sense of belonging in the community.
You might not be able to hold your liquor, but you can definitely hold onto your boots after a few glasses at Boot Ranch's monthly wine tastings.
Monthly wine tastings
Do you fancy wine tastings? Boot Ranch holds a monthly event where you can hang out with other wine aficionados and sample some of the finest wines around the world.
You'll get to taste different kinds of wines, like red, white or rose. Plus, sommeliers will provide tasting notes and pairing suggestions to help you identify each one.
It's not just about the wine – it's also a chance to meet new people, build connections and create a sense of community through shared interests.
A Boot Ranch newcomer once used these tastings to discover a love for fine wines. The knowledge she gained enabled her to host gatherings with her new friends and foster an appreciation for all kinds of wines.
When Boot Ranch residents say they love outdoor concerts, they really mean they love the Coachella experience minus the long lines and hot weather.
Outdoor concerts
Outdoor cultural events are a highlight of Boot Ranch! World-renowned musicians and artists come to perform. The events are designed for visitors to enjoy nature and a pleasant atmosphere.
Famous performers from around the world play outdoors at Boot Ranch.
Events are held in a beautiful landscape, adding to the experience.
Seating is available for the concerts.
Visitors can dine and appreciate the music and view. The series of events have been planned carefully to give visitors an unforgettable time.
Boot Ranch is known for its golfing excellence, rated as one of America's top 100 resorts by "Golfweek" for ten years. To experience the beauty and luxury, attend one of their outdoor concerts.
Getting to Boot Ranch may take a bit of effort, but it's worth it. Have your GPS and survival kit ready!
Location and accessibility of Boot Ranch
Boot Ranch: A Premier Location in Fredericksburg TX
Nestled in the beautiful countryside of Fredericksburg, Boot Ranch offers a premier location for those seeking to enjoy luxury living and world-class amenities. Conveniently accessible by road or by air, visitors can easily reach the ranch via the many local airports or by taking the scenic Hill Country drive.
The location provides a retreat-like atmosphere, with stunning views of the surrounding natural landscape. Boot Ranch also offers a private golf course, fishing ponds, and miles of hiking trails. The ranch is situated just minutes from downtown Fredericksburg, where visitors can explore the town's rich history and unique retail shops and restaurants.
For those seeking a truly exclusive experience, Boot Ranch offers luxury homes and villas providing a relaxed, high-end living environment. With impeccable attention to detail, the properties offer stunning views and high-quality amenities for those looking for a perfect getaway.
One of the most unique features of Boot Ranch is its commitment to preservation. The ranch's conservation program is dedicated to maintaining and improving the health of the local ecosystem, while also providing educational and recreational opportunities for visitors.
Overall, Boot Ranch is an exceptional location in Fredericksburg, TX, providing a luxury retreat for those looking to experience the best of Texas living. Boot Ranch may boast solitude in the Texas Hill Country, but it's also close enough to Fredericksburg for a quick escape – just in case you need to grab a bottle of wine to drown out the sounds of nature.
Proximity to Fredericksburg
Boot Ranch awaits! Situated near the quaint town of Fredericksburg, you can access its rich culture and history with ease. Plus, you can drive just a short way to downtown Fredericksburg for shopping and dining. Wine connoisseurs will enjoy the easy access to nearby wineries and vineyards.
Outdoor lovers won't be disappointed either. With the legendary Enchanted Rock State Natural Area close by, there are plenty of opportunities for hiking and camping in the beautiful Texas Hill Country.
For an efficient journey to Boot Ranch from Fredericksburg or San Antonio International Airport (SAT), choose Uber or Lyft instead of a taxi. So, get ready to experience the best of Texas!
Distance from major Texas cities
The destination of Boot Ranch is attractive to many people. It's in Texas, close to important cities. For instance:
San Antonio: 1.5 hours
Houston: 2.5 hours
Austin: 2.5 hours
It has loads of luxuries too. Like an 18-hole championship golf course designed by Hal Sutton, a family swim center with water slides and cabanas, spa services, and an equestrian center. These amenities make the property stand out from others in the area.
Forbes reported that Boot Ranch was named the Best Family Golf Community in America by Golf Magazine in 2019. If you have queries about Boot Ranch, don't worry. We got it covered!
Frequently asked questions about Boot Ranch
In this article, we provide essential information about Boot Ranch in Fredericksburg TX. As an exclusive private club and community, it offers an unrivaled living experience nestled among the Texas Hill Country.
What is Boot Ranch all about?
What are the amenities offered?
What types of homes are available?
Is the club open to non-residents?
What sets Boot Ranch apart from other communities?
In addition to the 55,000-square-foot clubhouse, fitness center, world-class golf course, and equestrian center, Boot Ranch offers a variety of services, such as a full-time concierge team, culinary team, and housekeeping staff. The club also offers a myriad of activities, including hiking, biking, fishing, shooting, and spa services.
Boot Ranch offers several home options, from a luxury cabin to an expansive estate home, to suit every taste. The community also offers a limited number of homesites for new construction.
One of the unique features of Boot Ranch is that it offers non-residents access to many of its facilities and amenities. It also provides its members with exclusive access to its members-only areas.
Historically, the land that now comprises Boot Ranch was part of the famous YO Ranch, and it has a rich history dating back to the 1800s. The development of the community began in the late 1990s, and since then, it has become one of the most desirable communities in the area.
Sorry non-residents, the only access you'll have to Boot Ranch amenities is through your dreams.
Can non-residents access the Boot Ranch amenities?
Can non-residents access Boot Ranch amenities?
Yes! Non-residents can access Boot Ranch amenities, subject to certain terms and conditions. They must be nominated by an existing property owner or member and fill out an application form and pay fees.
The fees cover golf, dining, pool usage, and other activities. Non-residents may reserve lodging, but it depends on property owner occupancy. They can bring up to 5 guests a day, but they'll need ID.
Non-residents aren't restricted in when they can use amenities. However, they may have limited access during peak season and special events for members only.
It's best to contact Boot Ranch's Membership Office before visiting to check what's available and find out about special offerings for members.
How much do Boot Ranch memberships cost?
Wanna join Boot Ranch? Know the costs!
The prices of Boot Ranch memberships can be confusing. Here's a breakdown of rates and fees:
| Membership Type | Initiation Fee | Annual Dues |
| --- | --- | --- |
| Golf Membership | $125,000 | $27,500 |
| Limited Golf Membership | $75,000 | $16,250 |
| Sport Membership | $25,000 | $5,000 |
| Social Membership | $12,500 | $2,750 |
Note: Costs may differ if additional services or packages are bought.
Can't commit to a membership? No worries! Recreational passes are there too. You can access amenities like swimming pools and tennis courts.
Don't miss out on the amazing lifestyle that Boot Ranch offers. Join now! It's like a country club but with more BBQ and less polo.
What is the community like at Boot Ranch?
Boot Ranch offers a unique experience. Innovation, inclusiveness and socialization are encouraged in its environment. It provides a sense of belonging, as if it's one's home in nature. People with diverse backgrounds and interests come here to enjoy the Hill Country life.
Residents can explore ranching, golfing, boating and fishing. Facilities here include modern clubhouses and scenic walking trails. Visitors come here to bask in its charm.
The culinary scene here is phenomenal. Fresh produce from local vendors are used to prepare delicious dishes. On top of that, one can also enjoy the stunning views of vineyards on rolling hillsides. Wine tastings events are often held too.
Boot Ranch stands for meaningful interactions between members and a shared sense of pride for living together sustainably amid remarkable landscapes. If you're looking for a little luxury in your Texas hill country getaway, it's definitely worth kicking off your cowboy boots for!
Conclusion: Final thoughts on Boot Ranch, Fredericksburg TX.
Boot Ranch in Fredericksburg TX is worth a visit. The views of the hill country are stunning. Plus, the amenities? World-class!
The activities here are great for adults and kids. Tours, golf, pools, tennis, events like movie nights, hayrides, and barbecues. Don't forget to try the restaurant's signature dishes. Fresh local produce and seasonal creations from renowned chefs – your taste buds will be in heaven.