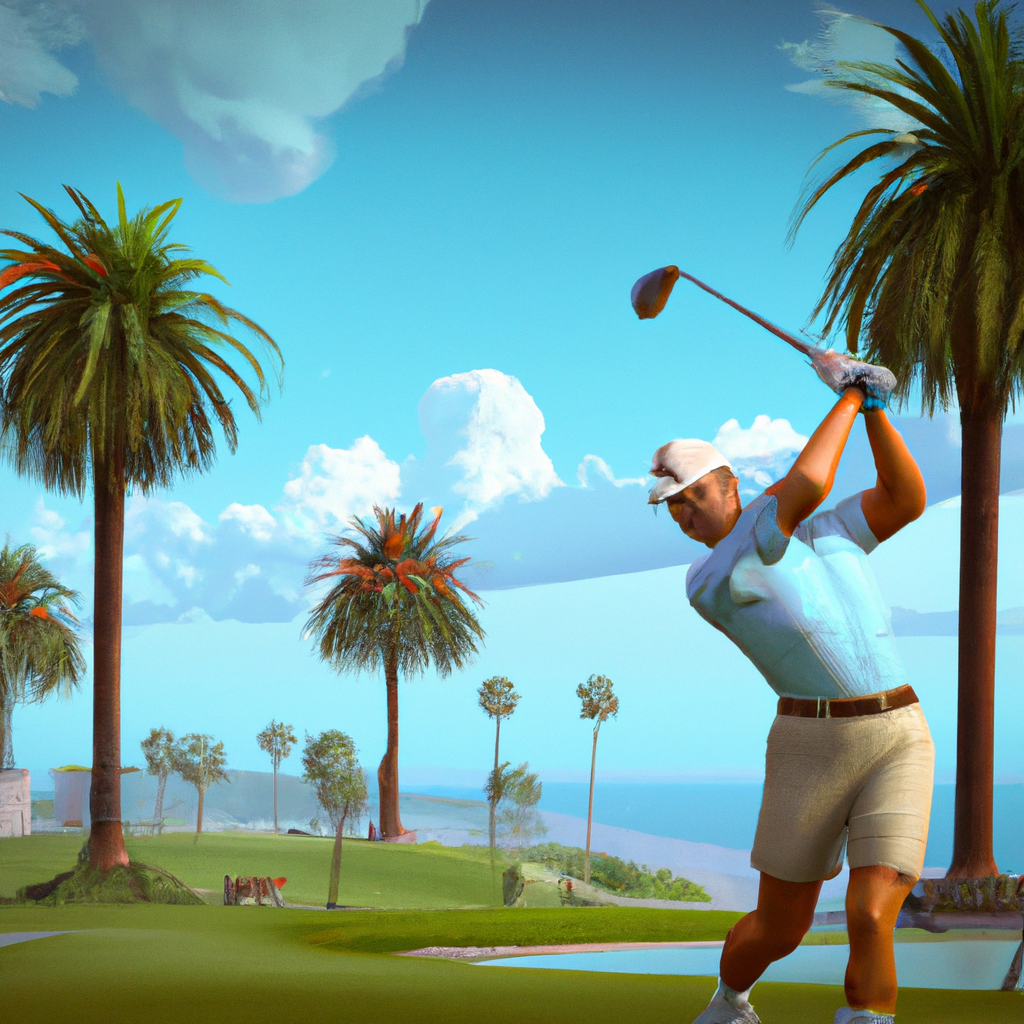 Top Airbnb Golf Destinations in North America
With stunning greens, impressive fairways and picturesque landscapes, discover some of the most incredible Airbnb golf destinations in North America. Here are the top three exclusive destinations where you can tee off and relax in the lap of luxury:
Enjoy panoramic ocean views and challenging courses in picturesque Pebble Beach, California. This world-class golf destination is perfect for seasoned golfers and beginners alike.
The high-altitude mountain courses of Whistler, British Columbia offer a unique and unforgettable golfing experience. Take in breathtaking views as you traverse courses designed by Arnold Palmer and Jack Nicklaus.
For a one-of-a-kind golf getaway, book your stay at a beautiful golf resort in Scottsdale, Arizona. Home to over 200 courses, this desert oasis boasts world-renowned courses and luxurious amenities.
Indulge in fine dining, spa treatments and other exciting outdoor activities to complement your golfing experience. Whether you're looking for a romantic getaway or a family vacation, there's something for everyone at these top Airbnb golf destinations.
If you're looking for a more secluded option, consider booking at the serene and peaceful Greenbrier Retreat, nestled amidst the lush terrain of West Virginia. Escape the hustle and bustle of city life and relax in the lavish accommodations and stunning golf courses.
From scenic coastlines to desert landscapes, these top Airbnb golf destinations offer the ultimate relaxation and adventure experiences. Set your sights on the green and get ready for a truly unforgettable vacation.
Looking to tee off and party like a rockstar? Head to Coachella Valley – where golf and music festivals collide.
California's Coachella Valley
This sunny Southern California destination offers stunning views of the Coachella Valley Mountains and world-renowned golf courses. All-year-round temperate climate and over 100 courses make it a prime spot for golfers.
Surrounded by spas, resorts, and charming restaurants, golfers can experience top-notch courses like La Quinta Resort & Club – Mountain Course and PGA West TPC Stadium.
Snow-capped San Jacinto mountains protect these championship-style greens. Plus, Indian Wells Golf Resort boasts lush fairways and soaring palms. Nearby, Joshua Tree National Park is great for rock climbers.
Forbes Travel Guide declared Indian Wells Golf Resort among "America's Best Inns" in 2021. This makes it even more attractive to novice players or tourists looking for leisure activities. Palm Beach County has more golf courses than you have ex-lovers. Fore!
Florida's Palm Beach County
Palm Beach County, on Florida's southeastern coast, is a golfer's paradise. It offers world-class courses and luxury resorts for an unforgettable experience. The warm climate and scenic views make it perfect for golf tournaments.
The top attraction is PGA National Resort & Spa. Five championship courses were designed by Jack Nicklaus and other famous golfers. The resort offers luxurious stays and expert instructors.
Lesser-known courses include Okeeheelee, with three nine-hole courses and a challenging course for beginners and intermediates. Old Marsh Golf Club has beautiful fairways, water challenges and a design by Pete Dye – one of America's best architects.
In fact, Palm Beach County has more professional golf fields than any other US county! You can even book an Airbnb Experience in the desert with cacti, coyotes and a great backswing in Scottsdale.
Arizona's Scottsdale
Scottsdale, Arizona is an opulent, elegant destination. Enjoy the views of Camelback Mountain on championship-level golf courses like Troon North, Grayhawk and TPC Scottsdale. Afterwards, indulge in world-class dining and shopping.
Scottsdale's packages include spa treatments with tee times and hot air balloon excursions. Guests can also relax in private casitas surrounded by lush landscaping, infinity pools, tennis courts and state-of-the-art fitness centers.
Explore historical Old Town and the Museum of Contemporary Art. Or watch artisans make Native American handicrafts at the Heard Museum. Experience relaxation and adventure all in one place – Scottsdale.
Best Airbnb Golf Destinations in Europe
As a golf enthusiast and a fan of Airbnb, exploring exquisite golf destinations in Europe can be an exciting adventure. To assist in your exploration without leaving the comfort of your accommodation, we have compiled the best Airbnb golf destinations in Europe.
The following are the top Airbnb golf destinations in Europe:
St Andrews, Scotland – Home to the iconic Old Course
Portugal – with the award-winning Monte Rei Golf & Country Club
Valderrama, Spain – Host of the 1997 Ryder Cup
County Kerry, Ireland – Famous for beautiful scenery and challenging courses
Apart from playing golf, these destinations offer other exciting activities, including wine tasting in Portugal's Algarve region, hiking and sightseeing in County Kerry, Ireland, and exploring the medieval city of St Andrews and the Andalusian mountains in Southern Spain.
When planning a golf vacation, consider factors such as the time of year, your skill level, accommodation preferences, and proximity to your preferred courses. For instance, booking your accommodation near the course not only saves you time but also allows you to enjoy a relaxing environment after a game. Additionally, consider booking a villa or apartment with ample living space to accommodate friends or family, making it a memorable experience for all.
Fore-see yourself sinking putts and drowning in the beauty of Portugal's Algarve on your next Airbnb golf getaway.
Portugal's Algarve
In Portugal's southernmost region lies the beautiful Algarve. It's known for its vast beaches, cliffs and golf courses. These courses have been designed by pros like Sir Henry Cotton and Jack Nicklaus, making it a paradise for golfers.
Plus, the Algarve has 300 days of sunshine each year, plus a rich cultural heritage awaiting your exploration. It's also been recognized by awards like "Europe's Leading Golf Destination" by the World Travel Awards.
Fore! Be ready to lose some golf balls and money in Spain's Costa del Sol, but the views will be worth it.
Spain's Costa del Sol
The 'Coast of the Sun' is located on the stunning southern coast of Spain. It's the perfect place for golf lovers! With its warm Mediterranean climate, palm trees, and sandy beaches, this golf paradise is amazing. The Costa del Sol offers various courses that challenge even the most skilled golfers.
Surrounded by mountains and bays, it's a golfer's delight. Valderrama Golf Club hosts major tournaments, Los Naranjos has a unique orange blossom scent in spring, La Quinta's North Course is compact yet tough and Aloha in Nueva Andalucía offers stunning scenery.
Off-course, explore traditional Spanish towns with their cultural and architectural heritage. Marbella Old Town has winding cobbled streets and Orange Square. Puerto Banus' glamorous harbor with designer boutiques and seafood also attracts tourists.
Drew Nesbitt's story in 2017 is a popular example. He struggled between overseas professional golfing trips. But friendly faces in Spain comforted him, helping him get back into form. This rare story is special!
Fore! If golf is your passion, St. Andrews is your holy grail!
Scotland's St. Andrews
Scotland's ancient university town, fabled for its old golf courses, offers an experience unmatched by other towns. Golfers of any skill level can take in the views of the ocean at the Old Course at St Andrews, the origin of the sport.
Accommodations range from luxurious hotels to comfy bed and breakfasts. The ruins of St Andrews Cathedral and the lovely fishing villages of the town are added attractions.
For golf pros, The Castle Course offers a magnificent view while testing your skills. Another grand option is the Jubilee Course, overlooking St Andrews Bay. It presents a thrilling challenge even for experienced players.
Golf aficionados can enjoy playing on world-renowned courses that have hosted legendary championships while admiring Scotland's exquisite landscape. Fore! Tee off at these Airbnb properties on golf courses!
Amazing Airbnb Properties on Golf Courses
Airbnb offers an array of exceptional lodging options for golf enthusiasts. These luxurious Airbnb properties on golf courses provide excellent facilities to indulge in golf games while experiencing the comfort of a stunning accommodation. Here are six points that highlight the remarkable features of these Airbnb properties:
The properties offer a picturesque view of lush-green golf courses
The accommodations are equipped with premium amenities like private swimming pools and Jacuzzi
The properties provide an ideal location with easy access to the golf courses
The properties are perfect for couples, family getaways, and a group of golfers
These accommodations provide various recreational activities, including spa treatments, fine dining restaurant, and historical sightseeing
The properties offer an opportunity to socialize with golfers from different parts of the world
In addition to standard amenities like comfortable beds and well-equipped kitchens, these stunning Airbnb properties on golf courses offer unique experiences that create unforgettable memories. Whether it's a private lake with water sports, or a grand library filled with classic books, every property has its charm. These accommodations are perfect for both avid golfers and vacationers who seek a relaxing getaway.
For an enhanced golfing experience, consider these suggestions:
Choose a property that offers a private golf instructor to improve your skills
Join a group of golfers at the same property to enhance social interactions and make lasting friendships
Book your accommodation in advance during peak season to ensure availability and enjoy the best rates
Overall, Airbnb properties on golf courses provide a unique blend of golf, luxury, and comfort. Choose the one that suits your needs and enjoy an unforgettable golf vacation. Fore-sure, this Hilltop Villa in Bali will have you swinging like Tiger Woods on the nearby greens.
Hilltop Villa in Bali
Hilltop Villa in Bali offers an amazing experience! Perched atop a hill, it provides stunning views of the golf course. Enjoy luxurious features such as an infinity pool and modern furnishings. Plus, the grandeur extends to scenic forests and streams.
The interior of the villa is sure to impress. With intricately carved wooden accents and stylish minimalist designs, you'll be in awe. Plus, there's housekeeping services to keep it neat.
For a unique experience, guests have exclusive access to the golf court. Plus, mingle with fellow golfers nearby. And, if you want to explore other attractions in Bali, there are spa services close by.
Enjoy your swing or relax by the pool. Here, luxury and peace come together!
Secluded Sanctuary in Mexico
This remarkable retreat nestled in the lush greenery of Mexico is a picturesque and exclusive getaway. It's a perfect private sanctuary for golf lovers searching for luxury and solace. The tranquil oasis is surrounded by verdant greens for an immersive course-side feel.
The property has amazing views with a range of amenities and majestic interiors that blend with the outdoors. Mexican and modern architecture make guests feel right at home. Take time to enjoy a stimulating game of golf on the immaculate course.
This place is uniquely crafted to provide ultimate holiday experiences. Guests are spoilt for choice with world-class restaurants just moments away from the estate entrance. Reserve enough time to relax in this one-of-a-kind retreat – it's an outstanding way to rejuvenate! Who needs a caddy when you can have a lake as your golfing companion at this stunning Vermont Airbnb?
Lakeside Retreat in Vermont
Vermont's picturesque lake holds an idyllic retreat, perfect for city-dwellers searching for peace. This lakeside property has been crafted to give guests a true immersion in nature.
The Airbnb features modern amenities, tasteful decor, and striking wilderness views. Guests can enjoy evenings at the fireplace or explore the lake outdoors.
What makes this retreat exclusive is its mix of rustic allure and luxurious comfort. There's a fully-equipped kitchen, comfortable sleeping arrangements, and access to nearby world-class golf courses.
Vermont has some of the most beautiful fairways in New England. From beginner-friendly to championship courses, it truly has something for everyone. Golf Digest's 2020-21 rankings even show that Vermont ranks fourth among all US states in terms of golf course quality per capita!
So, if you're a golfer looking for your next challenge or just wanting a peaceful getaway surrounded by nature – this lakeside retreat in Vermont won't disappoint!
How to Find the Perfect Airbnb for a Golf Getaway
To plan a memorable golfing vacation, employ Semantic NLP to find the right Airbnb accommodations. Selecting the perfect retreat involves more than just proximity to a golf course, but factors like amenities, price, and personal preferences.
A successful Airbnb golf getaway requires careful consideration of factors like location, course quality, and amenities like pools and spa facilities. Research popular golf destinations and stay near courses, shops, and restaurants. Use recommendations and past guest reviews to find your ideal accommodation.
While on the hunt for your golf retreat, consider specifics like how far your chosen course is from your Airbnb and whether you'd prefer a private or shared accommodation. Check amenities like golf club storage and availability of rental equipment.
Don't miss out on the perfect golf getaway, act fast and reserve your Airbnb now. With prime locations and sought-after amenities, the best accommodations book fast. Don't let procrastination ruin your golf vacation plans. Book today.
Who needs a caddy when you have a filter? Find your perfect golf-friendly Airbnb with just a few clicks.
Use Filters to Find Golf-Friendly Properties
Golfers: Find Your Perfect Airbnb!
Use filters to quickly find the perfect golf-friendly Airbnb for your getaway. Look for properties close to golf courses, with amenities like putting greens, and read reviews from past guests. Some hosts may even offer discounts or packages for golfers with tips on the best local courses. With just a few clicks, you can find a property that meets all your requirements and let you focus on playing! Who needs a caddy when you've got an Airbnb with a golf course right at your doorstep?
Look for Properties with Nearby Golf Courses
Searching for a golf getaway Airbnb? Look for accommodation near or adjacent to golf courses. That way, you'll have easy access with no disruptions. Check the distance between the property and the golf course on Google Maps or Travel Apps. See if the host offers transportation services (free or for a fee). If you're an early golfer, look for courses opening early in the morning. Opt for properties close to more than one golf course if you like variety. Make sure there are equipment rental shops and pro-shops nearby too.
For example, John and his friends scored an Airbnb next door to St Andrews. This historic venue hosts the British Open Championships. It came stocked with high-end equipment and gear rental options. No worrying about missing clubheads! Get amazing deals and packages from your Airbnb – and save on your golf getaway!
Check for Golf Packages and Deals
Golfers, Avail Deals and Packages!
Airbnb listings offer great golf packages. These include: direct course access, discounts at cafes and clubs, transport, and even lessons from a pro! Just look for them on your listing page.
Look for packages with golf perks
Check for discounts on clubhouse
Browse listings with course access
Golfers can also find partnerships between Airbnb hosts and other local businesses. Groups may get bulk discounts at nearby restaurants and shops.
Many Options to Consider
Search using keywords like "golf", "resort", "country club" to find unique deals relevant to your interests. You may find amenities like swimming pools, spas, and tennis courts too!
Unforgettable Experiences
Take the example of a family who booked an indoor mini-golf course. They had the entire facility to themselves during their stay. Bonding and enjoying each other's company while improving their short game skills!
Make your golf vacation unforgettable with an Airbnb!
Tips for Planning a Memorable Airbnb Golf Vacation
Planning a remarkable golf vacation through Airbnb can be a daunting task. Here are some essential guidelines to ensure your trip is seamless and stress-free:
Location Matters: Start your search by selecting a destination that satisfies your golf travel needs. Look for a place that has exceptional golf courses, beautiful scenery, and various entertainment options.
Accommodation: Select an Airbnb that meets your preferences and budget. Choose a property that is close to the golf course and has adequate space for relaxation, cooking, and entertainment.
Research: Learn more about the Airbnb's policies, reviews, and ratings before making a reservation. Doing thorough research is crucial to avoid unanticipated surprises and ensure that your expectations are met.
It's important to note that transparency and clear communication are key to a successful Airbnb golf vacation. Remember to reach out to your host if you have any questions or issues.
Did you know that Airbnb now offers a "plus" program where premium properties are carefully selected and audited? The program ensures that the properties meet high standards in terms of cleanliness, comfort, and design.
Find out where to improve your swing and where to retrieve your lost golf balls in the local golf courses.
Research Golf Courses in the Area
Planning a golf vacay through Airbnb? Here are tips to make the trip unforgettable!
Find championship or world-renowned courses.
Discover hidden gems recommended by publications or avid golfers.
Check if the course offers online bookings and reserve in advance.
Look for discounts on multiple rounds at one course or nearby affiliated ones.
Analyze resorts or hotels offering packages with free rounds. That way, you can save money and play some stunning courses!
Also, review amenities like pro-shops, clubhouses, rental carts, practice facilities, and customer service.
Make the most of every option. Pre-planning will be worth it when you're on vacay! So, don't miss out on creating lasting memories with friends and family. Oh, and don't forget to pack light – just one golf bag and enough outfits to look fresh every day!
Pack Light and Bring Necessary Golf Gear
When planning an unforgettable Airbnb golf holiday, don't forget to bring the essential golf gear. To save space, pack lightly. Here are some tips:
Choose clothing items that can go from course to cafe; like a polo shirt which goes with shorts or trousers.
Get comfy shoes with a good grip to navigate the course with ease.
Pop sunscreen, a hat and sunglasses in your suitcase to protect yourself from the sun.
Rent your clubs at the destination to save on baggage fees and time waiting for them.
Before heading off, research the courses and book tee times. Plus, pack all the necessary travel documents, such as passports and ID, for trips abroad.
Pro Tip: Buy travel insurance to safeguard your trip in case of unexpected events. To keep your sanity, squeeze in some non-golf activities.
Plan for Non-Golf Activities and Relaxation Time.
Factor Leisure Time in Your Golf Vacay
When planning a golf vacation, don't forget to include leisure activities. Investigate other experiences, like saunas and spas. Take in the scenery with nature walks or shopping trips. Engage in cultural activities like museums, galleries, or food tours. And don't forget to relax with yoga sessions! Balance work and play for a memorable trip.