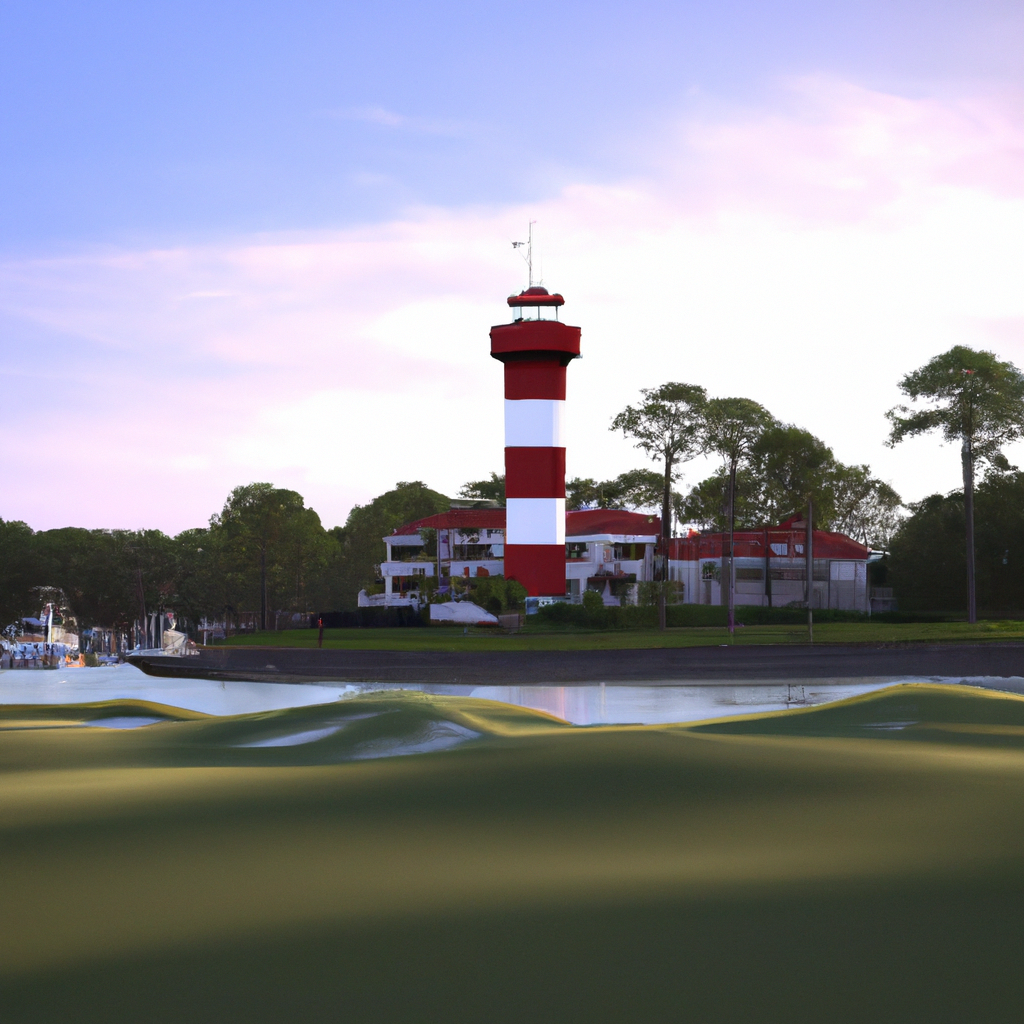 Overview of Harbour Town Golf Links at Sea Pines Resort, Hilton Head Island SC
Harbour Town Golf Links at Sea Pines Resort in Hilton Head Island is a golf course like no other. It's renowned for its challenging holes, stunning scenery, and its architect, Pete Dye.
Fairways are narrow and greens are tricky. Hazards are strategically placed throughout to test your skill and precision. It's one of the most challenging and beautiful courses in the world.
Since 1969, Harbour Town Golf Links has hosted the PGA Tour event RBC Heritage. The iconic 18th hole's red and white lighthouse is a symbol of South Carolina and American golf.
Pro tip: Bring your iron skills! This course will put them to the test.
Harbour Town Golf Links Course Design Features
The design of the Harbour Town Golf Course at Sea Pines Resort is notable for several distinctive features that set it apart from other courses.
The course's distinctive features include:
The iconic red-and-white lighthouse serves as a navigational aid for golfers.
The narrow fairways and well-placed bunkers require precision and strategy.
The small greens demand accuracy on approach shots.
The strategically placed water hazards add an additional challenge.
The course's finishing hole, the par-4 18th, is one of the most challenging in golf.
Not only does the course offer stunning views of the surrounding coastal landscape, but it also features a unique design that allows for a variety of shot options. The course's layout encourages players to make strategic decisions based on the course's natural obstacles and features.
Pro Tip: Be mindful of the wind direction and speed, as it can greatly affect club selection and shot accuracy on this challenging course.
At the end of the Harbour Town Golf Links, a red-and-white lighthouse stands tall – reminding golfers that if they hit it too far, they might end up in Davy Jones' locker.
Red and White Lighthouse at the 18th Hole
The Harbour Town Golf Links' 18th hole has a special beacon: a tall, vibrant red and white lighthouse. It signals a successful end to the round and serves as an emblematic reminder of the course's history. Plus, it helps golfers navigate the windy area. Photographers also flock here to capture its beauty for engagements or weddings.
Pete Dye designed the course to be visually stunning yet stay true to his style. It is said that the founder's wife chose the colors so it would stand out from afar. It certainly worked, as it is now a recognizable landmark that often appears in media coverage. Dye's genius is evident in the mounds, bunkers, and water hazards that make up this masterpiece.
Pete Dye's Signature Design Elements
To capture the unique features of Harbour Town Golf Links Course Design, we look at the special elements used by acclaimed designer Pete Dye. These components are key for his iconic style to stand out and guarantee an unforgettable golfing experience.
Take a look at some of Pete Dye's Signature Design Elements:
| Design Element | Description |
| --- | --- |
| Short grass | Turf cut short around greens for better viewability of the putting surface. |
| Pot bunkers | Small, deep hazards, strategically placed to test golfers' strategy skills. |
| Railroad ties | Wooden planks instead of bulkheads or grass lines for better visual connection with the area. |
| Rolling terrain | Topography altered with mounding and humps to create a challenging environment. |
Apart from these elements, Harbour Town also features amazing water features – highlighted by its iconic lighthouse behind the 18th green and a lake from hole #15 to #17.
Pete Dye's design philosophy is all about making the most of the natural surroundings and minimal disturbance to the environment. To do this, he incorporates trees, wetlands and sand dunes into his designs. Wind speed and light conditions also affect the way courses look.
Experience the best of Harbour Town Golf Links Course. Book a lesson with one of their PGA Professionals or take advantage of their practice facilities. With Pete Dye's creative vision, and beautiful surroundings, you'll enjoy a truly unforgettable game. Get ready to fall in love with golfing in Hilton Head Island!
Golf in Hilton Head Island SC
Hilton Head Island, located in South Carolina's Lowcountry, is a golfer's paradise. With stunning natural landscapes and the perfect climate, it boasts some of the best golf courses in the country. One such course is the Harbour Town Golf Links at Sea Pines Resort, which offers a unique golfing experience. Designed by Pete Dye, it is known for its strategic layout, challenging shots, and picturesque views. The course hosts the annual RBC Heritage PGA Tour event, attracting top players and golf enthusiasts from all over the world.
In addition to Harbour Town, the island has over 30 golf courses, each with its own character, making it a diverse golfing destination. Some are designed by legendary golfers like Jack Nicklaus and Arnold Palmer, while some offer a more relaxed and leisurely pace of play. Moreover, Hilton Head Island's golf courses are surrounded by natural beauty, including sea marshes, oak trees, and lagoons, making the experience even more enjoyable.
Apart from its popularity as a golf destination, Hilton Head Island has a rich history. It was home to Native American tribes, Spanish explorers, and European settlers, shaping its customs and traditions. During the Civil War, it was a strategic location for both the Union and Confederate forces, ultimately falling under Union control. Today, it is a popular tourist destination, offering not just golf but also other recreational activities like biking, fishing, and kayaking.
If golf isn't your thing, the Sea Pines Resort amenities will make you feel like a winner anyway.
Sea Pines Resort Amenities
Sea Pines Resort: A Haven of Conveniences!
The resort offers three golf courses to test players' skills, with spectacular natural surroundings.
The spa facilities provide patrons with holistic treatments for their health and wellness.
Plus, miles of bike paths let outdoor enthusiasts explore the island.
Deluxe accommodations, top-class restaurants and water sports activities? Sea Pines Resort has it all.
One guest shared her experience at the spa. She arrived feeling tense, yet left feeling rejuvenated after a calming massage.
Hilton Head Island is a golfer's paradise, with more courses than can be counted! Fore!
Other Golf Courses in Hilton Head Island SC
Head to Hilton Head Island SC for some golfing fun! There are plenty of excellent golf courses to choose from. Check out Palmetto Hall Plantation Club, Long Cove Club and Port Royal Golf & Racquet Club. Each offers a unique challenge and gorgeous greens.
For a truly special experience, go to the Robert Trent Jones Course at Palmetto Dunes Oceanfront Resort. It's one of the largest courses in the state and has stunning ocean views.
Don't forget about the RBC Heritage Golf Tournament that takes place each year on the island. Hosted by the Heritage Classic Foundation, the event has been a fundraiser for SC education since 1969.
And of course, the most important tournament of all – 'Sip and Swing' happy hour at Harbour Town!
Harbour Town Golf Links Tournaments and Events
Paragraph 1: The prestigious golf course at Harbour Town, located within the Sea Pines Resort in Hilton Head Island, South Carolina, hosts various tournaments and events throughout the year.
Paragraph 2:
The RBC Heritage, held annually in April, attracts top PGA Tour professionals and is the signature event at Harbour Town.
The PGA Tour Champions' event, the Boeing Classic, takes place in the fall and features legendary players over the age of 50.
The annual Hilton Head Island Amateur & Senior Championship is open to all amateur golfers, while the Players Am invites elite amateur golfers from around the world to compete.
Harbour Town also offers a variety of corporate and charity events, including private golf outings and charity tournaments.
Paragraph 3: Harbour Town Golf Links offers unique challenges for golfers, with narrow fairways and small greens making accuracy an essential skill. Players must navigate through iconic landmarks such as the Harbour Town Lighthouse and the Calibogue Sound while taking in the stunning natural surroundings.
Paragraph 4: To truly enjoy Harbour Town Golf Links Tournaments and Events, consider booking a stay at one of Sea Pines Resort's luxurious accommodations. Additionally, purchasing a hospitality package provides exclusive access and amenities during tournament play, such as private viewing areas and complimentary food and drinks.
Fore-get about it, the only thing more impressive than the Harbour Town Golf Links at Sea Pines Resort is the skill of the pros at the PGA Tour's RBC Heritage Golf Tournament.
PGA Tour's RBC Heritage Golf Tournament
The RBC Heritage Golf Tournament is a must-see event on the PGA Tour. Come to Hilton Head Island in April and witness the professionals compete on the Harbour Town Golf Links, one of the most picturesque courses. It all started in 1969, and Arnold Palmer and Webb Simpson are among some of the tournament's past winners.
You won't just get to see the golf; there are plenty of other activities to enjoy throughout the week. Food options, entertainment, and even the chance to experience island life! Come and take memories that will last forever.
Don't miss out! Make sure to book accommodation and purchase tickets early. Experience the RBC Heritage Golf Tournament for yourself, and come to a place where the greens are as lush as the love in the air!
Special Events and Weddings at Harbour Town Golf Links
Harbour Town Golf Links is the perfect spot for exclusive gatherings. From grand events to intimate ceremonies, we guarantee each detail will be taken care of. Check out the facilities and amenities we offer:
Club Dining Room – 210 guests, private bar
Mediterranean Grille – 80 guests, private bar
Player's Lounge – 65 guests, TV screens
Heritage Ballroom – 300 guests, outdoor terrace
Liberty Oak Room – 64 guests, golf course view.
We can customize your event based on your needs. From catering to decorations, we plan every detail. Plus, we offer add-ons like golf clinics and contests with PGA pros on our courses. Our staff is available throughout the process, guaranteeing your satisfaction.
Schedule a tour to get a better understanding of our locations and envision the perfect layout for your day. Harbour Town Golf Links is the ideal destination for events that create priceless memories and awe-inspiring views. Let us create a celebration beyond comparison!
Harbour Town Golf Links Clubhouse and Dining
The clubhouse and dining options at Harbour Town Golf Links offer an upscale experience in a picturesque setting. The interior design features nautical themes and a sophisticated atmosphere. Guests can indulge in fine dining with stunning views of the golf course and yacht basin. The menu offers an array of fresh seafood, prime meats, and local cuisine. The bar and lounge provide a relaxing spot to enjoy a cocktail or watch a game after a round of golf. Private dining rooms are available for special events or meetings.
For those seeking a more casual dining experience, the Links Grill offers a variety of sandwiches, salads, and hot dogs. The outdoor patio overlooks the 18th green and is a popular spot for lunch or happy hour. The pro shop offers a selection of souvenirs and golf merchandise. The Harbour Town Golf Links Clubhouse and Dining is a must-visit destination for golf enthusiasts and foodies alike.
Did you know that Harbour Town Golf Links has been ranked among the top 100 golf courses in the world by Golf Digest and Golf Magazine? You'll feel like a pro even if your game is subpar, thanks to the top-notch facilities at the Links Golf Club Pro Shop and Locker Rooms.
Links Golf Club Pro Shop and Locker Rooms
Golfers can enjoy a luxurious experience at the Links Golf Club Pro Shop and Locker Rooms. It features a selection of sports gear from leading brands, plus private lockers and shower areas. Players can also take advantage of the Club's laundry service for a small fee, to keep their attires clean.
Don't miss out on the amazing amenities at Harbour Town Golf Links' Clubhouse! Book your visit and get ready for an amazing golfing experience. And if that doesn't leave you satisfied, the dining options at the Clubhouse will surely hit the spot.
Dining at the Harbour Town Clubhouse
The gastronomical experience at Harbour Town Golf Links Clubhouse is unrivaled. An extensive menu offers classic southern dishes with locally sourced ingredients. Dine indoors, enjoy the ambiance on their outdoor terrace or indulge in their poolside service.
Their culinary team combines classic cooking techniques with contemporary twists, adding flavors that tantalize the taste buds. The wine cellar is stocked with an impressive selection of wines.
While savoring the delicious food and wine, admire yachts sailing in and out of Harbour Town Yacht Basin. The tranquil golf course atmosphere rounds out the unique experience.
During the annual Heritage Tournament at Harbour Town Golf Links Clubhouse, professionals flock to the Pineapple Room. This eagerly sought renaissance bar, created by Jim Hosmer, serves up a taste-bud rolling meal prepared by top chefs.
Stay at Sea Pines Resort for a better chance of spotting a gator than a par on the golf course!
Sea Pines Resort Accommodations and Activities
In the heart of Hilton Head lies a hidden gem, where visitors can enjoy luxurious accommodations and a plethora of activities. From serene beaches and top-rated golf courses to world-class dining and shopping, this resort offers something for everyone.
Stay in one of our deluxe villas or spacious homes, all equipped with modern amenities and breathtaking views.
Relax and unwind at The Sea Pines Beach Club, offering a private beach, beachfront bar, and fine dining restaurant.
Challenge yourself at any of our three championship golf courses, including the iconic Harbour Town Golf Links.
For the adventurous, take a sunset sail or explore the island's natural beauty by bike. Our activities program offers tennis, kayaking, and fishing, among others. Guests can also indulge in boutique shopping and exquisite cuisine at our many restaurants and cafés.
As night falls, gather your loved ones and unwind around the fire pit at The Quarterdeck, with live music and cocktails.
One guest, a frequent traveler, shared her experience: "From the moment we arrived, we were treated like royalty. The staff were friendly and attentive, and the accommodations exceeded our expectations. We enjoyed a round of golf, followed by a sunset sail, and finished off the night with a delicious meal at Coast Oceanfront Dining. We cannot wait to return to Sea Pines Resort."
Who needs a beach bod when you can just lounge at the Sea Pines Beach Club and admire the golfers trying to hit sand shots?
Sea Pines Beach and Beach Club
The sun-soaked glory of Sea Pines' beach and beach club is an experience to savor. Lounging on the sandy shores or bobbing in the waves can be quite enticing. For more action, try kayaking, swimming, stand-up paddle boarding in the Atlantic waters. Or relax with a book under an umbrella.
Coast Oceanfront Dining offers breathtaking ocean views and an exquisite menu selection. With its serene atmosphere and upscale amenities, Sea Pines provides ultimate indulgence. Guests leave feeling satiated and recharged.
One family experienced the lushness of Hilton Head Island and peaceful bike rides throughout Sea Pines Resort. Their adventurous vacation culminated in beach days that lasted into the sunset.
For tennis lovers, are you really even playing if you're not screaming "Love 40"?
Activities in Sea Pines Resort: Tennis, Biking, Kayaking, and Horseback Riding.
Sea Pines Resort is the place to be for a wild time! With tennis, biking, kayaking, and horseback riding, there's something for everyone.
Tennis – Fifteen state-of-the-art courts are here for a perfect experience. Rally in the green surrounds with your partner/mentor.
Biking – Pedal around the 5,000-acre area on pathways filled with nature. Trails for all levels make for a great day out.
Kayaking – Get some aquatic action with world-class beach club kayaking lessons. Explore vibrant waters with expert guides.
Horseback Riding – Take a trail ride with experienced instructors. Experience the forest and beaches on an unforgettable equestrian adventure.
Don't forget paddleboarding and fishing, too! Sea Pines has many options which all guarantee a thrilling day.
I recall, once upon a time, a fun family at the resort, embarking on their horseback ride. They were overjoyed as they rode through magnificent terrains.