Luke is an avid weekend-warrior golfer from the East Coast who plays golf more than he cares to admit.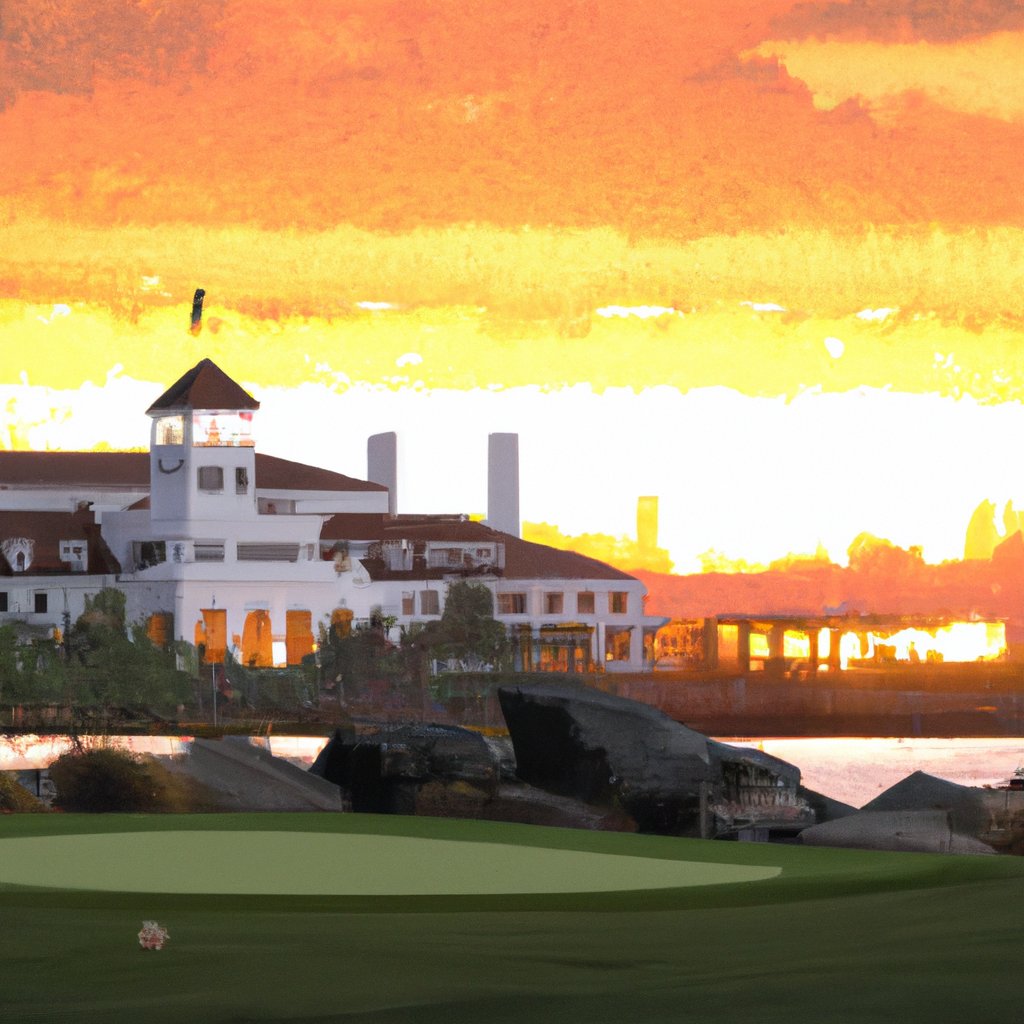 Overview of Liberty National Golf Club
Liberty National Golf Club offers a luxurious golfing experience with incredible views of the New York skyline and Hudson River. Tom Kite designed the course, which is full of challenging holes that follow the area's topography. Members can enjoy the upscale amenities of the clubhouse, such as fine dining, private event spaces, and a fitness center.
The club is well-known for hosting high-profile events such as the Presidents Cup and Northern Trust Open. Plus, members can join tournaments all year round, from match play championships to member-guest competitions.
This prestigious club is also committed to environmental sustainability and conservation. They use renewable energy and eco-friendly practices, like composting food waste.
If you're interested in joining, golf lessons from professional instructors are recommended. Furthermore, becoming a member at Liberty National guarantees access to networking opportunities with successful business leaders who often attend events there. Oh, and don't forget the dress code!
Location and History
To learn more about the history and location of the Liberty National Golf Club in Jersey City NJ, delve into this section with a focus on the Jersey City and Hudson County areas, as well as the founding and development of the club. These sub-sections will reveal insights into the golf course's rich history.
Jersey City and Hudson County
Jersey City, nestled in the Hudson County region of New Jersey, has a fascinating history and diverse culture. The Lenape Native Americans first settled the area, before it was colonized by the Dutch in the 17th century. Today, Jersey City is a financial and transportation hub, with its waterfront offering mesmerizing views of Manhattan.
The area is remembered for its industrial past. Factories and warehouses populated the area during the Industrial Revolution. Now, many of these buildings have been converted into hip apartments and creative spaces. Plus, there are plenty of parks and outdoor attractions, such as Liberty State Park and the Hackensack River Waterfront.
Hudson County is also home to one of the biggest Cuban populations in the US. This has given rise to a lively Latinx community, as well as some of the best Cuban food beyond Cuba itself.
Forbes magazine has labeled Jersey City one of America's top cities for young professionals. Its inexpensive housing and close proximity to New York City make it a great choice. From its rudimentary beginnings to its ambitious accomplishments, the history of this area is like a game of Jenga – every piece builds up something remarkable, until one wrong move topples it all.
Founding and Development
This area has a long history, establishing itself and growing over the centuries. Its development was shaped by cultural, political and economic events. Its unique blend of heritage and modernity draws visitors from all over.
It has changed greatly. From humble beginnings, the area is now known for its variety of physical and intellectual offerings. Its growth owes to its geographic advantages, skilled workers, infrastructure and great leaders. It's a testament to human creativity.
What stands out? Its commitment to preserving heritage architecture. This respect is evident in almost every structure within it. It's a platform for people to experience life while also respecting their culture.
One story involves the WWII battle that happened here. Today, plaques remember those who sacrificed themselves for their country. So, get ready to learn all about the design and features of this historical location – Let the journey begin!
Course Design and Features
To easily explore the different features of the Liberty National Golf Club in Jersey City NJ, we will focus on the course design and its unique characteristics. Specifically, we will discuss signature holes, waterfront scenery, and amenities and services to highlight the distinct offerings of this golf club.
Signature Holes
Golfers look for courses with Signature Holes – distinguished by their unique design, strategic challenges and views. They focus on narrow fairways, bunkers, water hazards and par 3s,4s or 5s for maximum visual impact and complexity.
Famous courses use these holes as defining features, to create an emotional connection with players. Designers plan them carefully, to combine playability and beauty.
History books tell tales of tournaments won or lost on these holes. To succeed, players must abandon conventional strategies and take risks for eagles or birdies.
Golfers have realized that all they need for a great game is a course with a waterfront view – forgo the gym and hit the links!
Waterfront Scenery
The serene coastline view enhances the course's design. Students can relish the tranquility of the water while they learn. The waterfront scenery adds an extra element to their learning experience, making it special and enjoyable.
The lapping of waves and gorgeous sunsets over the horizon further improve their outdoor classrooms. The cool breeze from the water makes it comfy to study outdoors. Plus, the breathtaking scenery is a natural stress reliever.
The waterfront scenery provides a brilliant setting for students to connect with nature. It refreshes their minds and invigorates their bodies. Its picturesque view creates a calming atmosphere and ample opportunities for inspiration.
Pro Tip: Take a few moments out during breaks to appreciate the beauty of nature. These short recharges will lead to greater productivity over time. The course offers great amenities and services – like a golf ball in a sand trap.
Amenities and Services
This course brings unique features and conveniences to students for optimum learning! These assets satisfy needs and boost the education experience.
Classrooms and tech are advanced and futuristic!
Tutorials, workshops and support services promote excellence.
Certifications internationally recognize credentials and help in the job market.
Schedule options fit your lifestyle and obligations.
We create an inclusive environment with networking opportunities.
Our teachers add real-world experiences to their teachings. They go beyond the basics to inspire, build expertise and help reach goals.
One student solved a resource allocation problem after lessons in this course. With newfound knowledge and confidence, their boss was impressed and they got a promotion. Higher education unlocks endless possibilities!
It may cost to join, but events are priceless.
Membership and Events
To learn about the membership and event opportunities at Liberty National Golf Club in Jersey City NJ, read on. Discover the various membership types along with their benefits, and explore how Liberty National caters to corporate and social events.
Membership Types and Benefits
Gaining Clarity On Membership Benefits
Memberships come with many perks that can help you reach your goals. Access to resources and special discounts can make a huge difference when organizing an event.
Here are three great benefits of being a member:
Networking with a wide community.
Premium perks like exclusive deals.
Tools to help you organize events.
Besides these, members can also gain access to expert guidance. Personalizing events for users and creating networks in different industries could make the experience even better. This could lead to loyal members, more revenue, and useful feedback.
Corporate and social events: where coworkers become friends and acquaintances become Facebook friends.
Corporate and Social Events
Our org is proud of our range of gatherings. They fit both corporate and social settings. We design them to give a sense of community and networking chances. With different themes and places, each event is a special experience.
Every event is planned and executed with the goal of lasting memories and connections. From busy business confs to chill socials, we have something for all.
Our events offer members a platform to learn, grow and connect in a fun atmosphere. We welcome you to view our schedule of upcoming events and join us to benefit from membership. Don't miss out on these chances to build your network and sharpen your skills!
Oh, and if you're looking for a third person to join in on your accommodation, just remember: bed bugs are always up for a threesome.
Accommodations and Partnerships
To enhance your experience at the Liberty National Golf Club in Jersey City NJ, the club offers exclusive accommodations and partnerships. Through a partnership with The Ritz-Carlton, the club ensures your comfort and luxury. Additionally, the club provides exclusive accommodations for members, adding to the convenience and enjoyment of your visit.
Partnership with The Ritz-Carlton
Our collab with The Ritz-Carlton – a world-leading luxury hotel brand – has made our rooms unique. Guests can enjoy the special services and facilities they provide. We have exclusive packages that enhance your stay, like access to their spa and restaurants.
This partnership gives us the chance to offer our guests a higher standard of quality and attention. With their impeccable service, The Ritz-Carlton amplifies our values of sophistication and comfort. An unforgettable stay awaits!
We also offer private tours and activities in conjunction with The Ritz-Carlton. Our tailored experiences are designed for diverse needs, giving you a one-of-a-kind journey.
Don't miss out on a luxurious stay! Book now to take advantage of our collaboration with The Ritz-Carlton. Enjoy their top-notch services and exclusive packages that will exceed your expectations. Finally, a reason to join a club: exclusive accommodations!
Exclusive Accommodations for Members
Members can enjoy various benefits when they stay in exclusive lodging facilities. Options can be tailored to their preferences, travel dates and location. Private elevators and exclusive restaurants are also available.
Additionally, members get:
Exclusive suites and rooms
Priority check-ins at partnering resorts
Discounts for family or friends
Plus, personalized services like butlers and VIP packages await them. These benefits are exclusive to members of the organization offering these accommodations.
Pro Tip: Book quickly during holiday seasons, as these exclusive lodging facilities tend to fill up fast! Leave behind a legacy of a hotel room sans any bedbugs and unpleasant smells.
Legacy and Recognition
To understand the legacy and recognition of Liberty National Golf Club in Jersey City NJ, delve into the awards and accolades, philanthropic efforts, and community involvement. Discover how these efforts have helped the club gain recognition as a top-tier golf course and make a positive impact on the community.
Awards and Accolades
Recognition and honor bestowed upon an individual showcases their hard work and persistence. These acknowledgements denote remarkable achievements in their respective fields, spurring further success. Here are some examples of noteworthy recognitions and awards:
Distinctions and Honors: Such as Cum Laude or Magna Cum Laude, Dean's Lister, or Best Thesis Awardee.
Scholarships: Merit scholarships that offer monetary help for educational goals.
Professional Recognition: Professional associations granting membership, certificates, or recognitions.
Industry Awards: Music GRAMMYs, Oscars for films, granting validation for outstanding performance.
National Honors: Highest form of recognition from government to those who have made significant contributions to society.
Various recognitions honor individuals striving for greatness. There are numerous ways to gain the acknowledgment they deserve. Highly successful people can receive accolades over time from industry professionals. For example, Dr. Marie Curie won two Physics Nobel Prizes due to her contributions to radioactivity. Participating in the community is important, as it provides potential opportunities to build a legacy.
Philanthropic Efforts and Community Involvement
This section looks at the organization's social responsibility and involvement. It has been actively engaging in philanthropic efforts and collaborating with local non-profits. The organization is committed to helping the communities it operates in.
Employee volunteerism is prioritized to engage with local communities and raise awareness for different causes.
Past charitable programs have included donations and investments in technology to improve healthcare.
The founder was inspired to strive for economic growth and build resilient communities by providing continuous support.