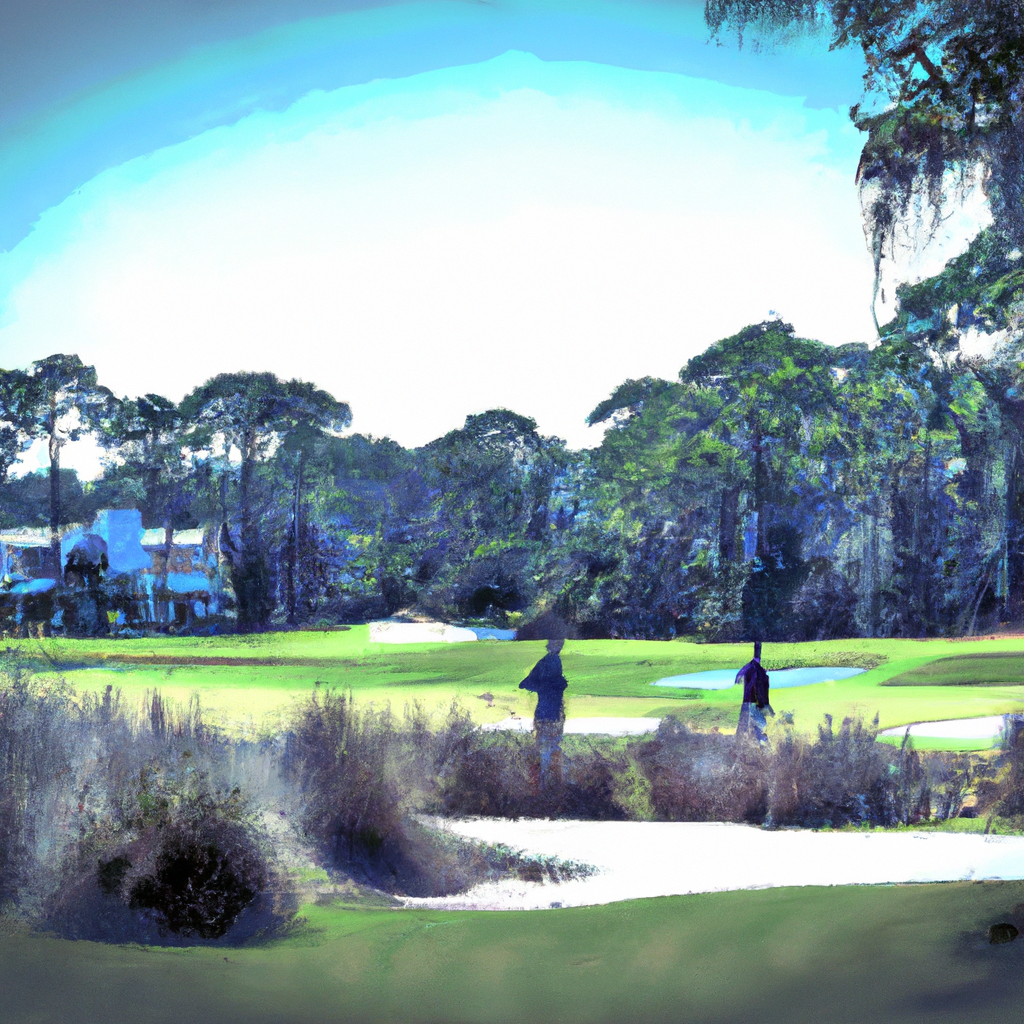 Overview of the Long Cove Club
Long Cove Club is an upscale residential community in Hilton Head Island. 630 acres of lush green landscapes are surrounded by tall pines. The Pete Dye golf course is designed for accuracy over distance. Narrow fairways, undulating greens and multiple water hazards provide players with an exciting challenge. The marina has four lagoons opening into Broad Creek giving members easy access to the Atlantic Ocean.
Members can take part in activities such as tennis programs, yoga classes, Pilates sessions and leisure trails. Long Cove Club also organizes social events such as food truck night and costume parties.
Relax in the waterfront pool, surrounded by stunning scenery. Indulge in world-renowned spa treatments or dine at one of five restaurants.
Become a permanent resident and enjoy exclusive benefits like free access to all amenities without any added fees. Long Cove Club offers a luxurious experience in Hilton Head Island's countryside – blending luxury facilities and natural beauty to create a perfect getaway! You'll forget you're still in South Carolina!
Location and Surroundings of Long Cove Club
Long Cove Club sits in the dreamy Hilton Head Island, surrounded by the peaceful Atlantic Ocean. It's cloaked in lush greenery, with glimpses of plantation golf courses and wildlife reserves.
Members have a range of facilities at their fingertips: tennis courts, a private marina, a clubhouse and a fitness center. Plus, the area has the island's top attractions- Coastal Discovery Museum and Hilton Head Outfitters– making it the perfect place for families and individuals.
Long Cove Club is a community where you can feel the luxury and tranquillity of nature. Enjoy world-class facilities with the peacefulness of being close to nature.
Live in the beauty of beaches and oak forests– don't miss out on this reality and make Long Cove Club your home! With the amazing amenities here, it's hard to choose between working on your golf swing and getting a tan!
Amenities Offered by Long Cove Club
Long Cove Club's Elite Offerings
Long Cove Club is a world-class community that offers a variety of elite amenities to its residents. These exceptional facilities have been designed to cater to all their residents' needs and provide them with a luxurious living experience.
Championship Golf: Long Cove Club has a championship golf course designed by Pete Dye that's widely recognized as one of the country's best courses. It also has a golf performance center, practice facilities, and a golf shop to cater to golf enthusiasts.
Tennis and Pickleball: The club features seven Har-Tru courts and two pickleball courts that are well suited for beginners and professionals alike. The club also features clinics, camps, and lessons for both tennis and pickleball.
Boating: Long Cove Club has a full-service marina that offers dockage, maintenance, and fuel services. The marina is also well-equipped with kayaks, paddleboards, and sailboats that are available for residents' use.
Moreover, Long Cove Club also offers its patrons premium dining experiences, refreshing pools, and a fully equipped fitness center for a more holistic lifestyle.
Pro Tip: Upgrade your stay to a premium villa for a complete resort living experience.
"Playing golf at Long Cove Club is like trying to navigate a minefield…if the mines were sand traps and water hazards."
Golf Course
Long Cove Club's golf course awaits you! Its sprawling landscape adorned with lush greenery is the perfect backdrop for an unforgettable golfing experience. Pete Dye, a renowned American Golf Course Architect, designed the 18 holes with a blend of challenge and serenity.
Enjoy the various amenities offered at The Pavilion. Munch on delicious food and take in the captivating views of Harbour Town Lighthouse and Calibogue Sound. Don't miss out on visiting "Dye Putting Green," created by Pete Dye himself.
Webb Simpson, PGA Tour professional, was highly impressed by the unique design and impeccable maintenance of the course. While playing here recently, he praised it for standing out from the other courses he had visited.
If you want to experience a unique golfing experience, Long Cove Club is your go-to destination. Enjoy its amenities and don't forget to visit Pete Dye's "Dye Putting Green"!
Tennis Courts
The Long Cove Club has something special for tennis lovers. Not just ordinary courts – these are extra special! They've got top-notch design and features. Here's a look:
Clay court? Check.
Lighting? Check.
Seating for 4? Check.
Hard court? Check.
Lighting? Check.
Seating for 6? Check.
Grass court? Check.
Lighting? Nah.
Seating for 2? Check.
Plus, each court has lighting for evening sessions. And comfy seating during breaks between games.
One member's kids learned to love tennis because of the friendly atmosphere. She especially enjoyed the grass court, like it was her own backyard. Want to relax? The pool's the spot. Pretend you're a consultant taking a 'business call' while sipping on a piña colada.
Swimming Pool
The Long Cove Club's aquatic recreation area oozes pampering and indulgence. A serene oasis awaits! With a 25 meter long and 6 lane wide pool, you can enjoy a comfortable swim all year round. Surrounding the pool are luxurious cabanas and lounge chairs, offering ultimate relaxation.
Relax in the sun or catch up on some reading, free from your daily routine. The club provides private swimming lessons, water aerobics classes, and lap swimming. And, with elite poolside services, you will feel like a true VIP.
A National Recreation Park Service Survey reveals that being near the water enhances people's moods, and promotes positive feelings. If you're searching for a club that's as impressive as your golf swing, Long Cove Club is the place to be!
Clubhouse and Dining Facilities
Long Cove Club offers exceptional amenities to its members. The luxurious clubhouse and exquisite dining facilities offer a stylish atmosphere to socialize and dine in. The gorgeous architecture and stunning view make it perfect for hosting events. Formal and casual dining experiences, as well as private dining rooms, are available.
Members can enjoy outdoor spaces like terraces and patios with beautiful nature surrounding them. Spend leisurely afternoons poolside and sunbathing on the deck.
On Hilton Head Island, Long Cove Club provides an exclusive boating facility. This includes access to fueling stations, launching ramps, dock slips, kayak storage, and fish cleaning stations.
Long Cove Club is known for delivering top-notch services with great detail. According to Travel + Leisure website, it's ranked one of America's best residential golf communities. Buying a home at Long Cove Club is like having a permanent VIP pass to paradise.
Real Estate at Long Cove Club
Real Estate Opportunities at Long Cove Club
Long Cove Club in Hilton Head Island offers exclusive properties for those seeking luxurious and private living. These homes boast waterfront locations, scenic golf course views, and access to top-notch amenities.
The available real estate options at Long Cove Club include custom-built homes, villas with spacious interiors, and privately-owned plots of land for building your dream home. Real estate prices vary depending on the location and size, but all offer a high return on investment.
Notably, Long Cove Club is a gated community with enhanced security measures, ensuring a peaceful and safe living experience. This community offers a variety of activities, such as golf, tennis, and water sports, that cater to different interests and age groups.
For those seeking to invest in a prime piece of real estate, Long Cove Club is a perfect destination. From the stunning waterfront views to the wide range of activities, it is an ideal place to call home. Whether you're in the market for a mansion or a cozy cottage, Long Cove Club has you covered (in Southern hospitality).
Types of Properties Available
At Long Cove Club, buying real estate is about more than just owning a piece of property. It's about joining a community that values long-lasting relationships and shared experiences.
The club offers a wide range of options for buyers seeking luxury living spaces, from charming cottages to majestic estates. These include:
Beautiful Cottages
Villas with Breathtaking Views of the Lush Greenery
Intricately Designed Townhomes
Majestic Luxury Estates with Resort-Style Amenities
Townhomes come with open concept floorplans, large bay windows and outdoor terraces. And luxury estates provide all the amenities one would expect from resort-style living. Also, buyers can choose an empty lot to build their custom-built home from the ground up, or customize an existing property.
The club features extensive walking trails along lakeside vistas, courtesy docks with direct boating access to Broad Creek Harbor and luxuriate in unexuberated natural beauty. Avid golfer Ted Michaels moved in almost five years ago and bought a townhome nestled among lush greenery with remarkable views of tidal creeks and marshes.
Long Cove Club: Invest in a fancy golf course community, and reap the rewards of a unique lifestyle!
Investment Opportunities
Reap the rewards of investing in Long Cove Club real estate! There's a plethora of money-making opportunities. Check out the table below for details.
| Investment Type | ROI Potential |
| --- | --- |
| Vacation Rentals | 14-20% |
| Long-term Leases | 6-8% |
| Reselling Properties | 30-35% |
Rent your property to visitors, go long-term leasing or resell your premium property for great returns. Plus, explore further exciting possibilities!
Be part of the VIPs who have graced this resort-style community. Former US Presidents, celebrities and more have enjoyed it. Join in and start your wealth journey today! Get ready to luxuriate in luxury living with better perks than Coachella.
Long Cove Club Membership
Long Cove Club offers exclusive membership options for individuals interested in luxury living and premium amenities. Members enjoy access to world-class golf courses, private marinas, state-of-the-art fitness centers, and fine dining establishments. Here is an overview of the Long Cove Club Membership:
| Membership Type | Description | Initiation Fee | Annual Dues |
| --- | --- | --- | --- |
| Golf Membership | Full access to all golf courses and practice facilities | $125,000 | $22,100 |
| Social Membership | Access to all clubhouse amenities, private dining, and social events | $25,000 | $5,625 |
| Limited Golf Membership | Access to one golf course and practice facilities | $50,000 | $9,925 |
Long Cove Club Membership offers more than just access to exclusive amenities. Members have the opportunity to be part of a thriving community and participate in various events and social activities. Additionally, the club offers attractive membership packages for families and individuals, making it a great investment for those who seek a luxurious lifestyle.
The Long Cove Club has a rich history dating back to the early 1980s when it was founded. The visionary founders sought to create a premium residential community that offered the perfect blend of nature, luxury, and exclusivity. Today, Long Cove Club has become one of the most coveted addresses on Hilton Head Island, attracting members from all over the world.
Joining Long Cove Club is like getting a backstage pass to paradise, without the screaming fans and expensive merch.
Membership Types and Benefits
Long Cove Club – Membership Types and Benefits
Long Cove Club has various memberships, each with its own perks. These include: Full Golf Membership, Social Membership and Sports Membership. All offer unique experiences to meet everyone's needs.
Full Golf Membership gives exclusive access to the golf course and more.
Social Membership offers access to the dining facilities and family-friendly events.
Sports Membership grants access to the fitness center, tennis courts and pickleball courts.
All memberships get access to the Long Cove Marina and its watercrafts.
Personalized membership plans are also available. The joining fee may differ depending on the membership type.
Memberships at Long Cove Club bring a range of privileges. Make the most of them by attending private dining events with renowned chefs, listening to live music from well-known artists, taking part in golf workshops led by pros, trying new water activities at the marina or attending social galas.
Long Cove Club's membership types offer endless possibilities and a community of like-minded people. Think carefully to find the one that best suits you.
Membership Fees and Requirements
Long Cove Club Membership Criteria and Costs
Equity Golf Membership: Initiation fees range from $35,000 – $60,000 with annual dues of $13,950 + $4,107 F&B. It also has a mandatory spending requirement of $1,500 annually on F&B or golf/fee if not met.
Sports Membership: Initiation fees range from $15,000 – $25,000 with annual dues of $5,415 + $2,401 F&B. It also has a mandatory spending requirement of $1,500 annually on F&B or tennis/fee if not met. It includes access to golf with a green fee included.
Social Membership: Initiation fees range between $4,000 – $10,000 and has no annual dues due to food expenditure integrated into the lifestyle membership. However, it has a $3,000/year in food expenditure requirement with penalty fee if not fulfilled. It is not open to real estate ownership.
Junior Executive Membership: Long Cove Club also has a membership option for individuals aged 21-39, with reduced initiation and annual dues rates based on age.
Bloomberg's Elin McCoy suggests Long Cove Club may have "some of America's best golf courses." Enjoy the exciting events and activities at Long Cove Club!
Events and Activities at Long Cove Club
Long Cove Club on Hilton Head Island offers an array of engaging and entertaining opportunities for its members with various social gatherings and physical activities.
Take your pick at Long Cove Club's championship golf course, award-winning tennis facility, and the coveted deep-water marina.
Long Cove Club goes beyond sports by hosting numerous events throughout the year, including educational classes, wine dinners, and seasonal festivals.
Stay healthy and happy with Long Cove Club's fitness center, equipped with state-of-the-art machines and personal training sessions.
In addition to its already impressive amenities, Long Cove Club's specially curated events, such as the Sunset Social at the Marina and the Club's Annual Oyster Roast, offer members unique experiences tailored to their preferences.
Members looking for a relaxing atmosphere can unwind at the Club's poolside cabana overlooking the picturesque lagoon, while those seeking solitude can retreat to Long Cove Club's private beach situated on the Atlantic Ocean. Every experience at Long Cove Club is designed to nurture community and promote well-being. Who needs a social life when you can join Long Cove Club and attend events with people who actually have yachts?
Social Events for Members
Long Cove Club hosts a variety of gatherings for members to socialize. These events promote connections and foster a sense of community.
Golf fanatics can come together for the Long Cove Golf Tournaments and show off their skills in the great outdoors.
At the Clubhouse Happy Hours, members can relax, share stories, and network over drinks and snacks.
The Annual Gala is a festive event where members dress up, indulge in delectable food, and dance the night away.
Little ones can join the fun at Long Cove Kids' Events like Easter Egg Hunts and Halloween Parties.
Members also have access to exclusive events like private Chef's Table Dinners and themed dinners at various locations.
Stay informed about upcoming events by checking out the Long Cove Club event calendar or signing up for email updates.
Come on over and get your groove on with the recreational activities at Long Cove Club!
Recreational Activities Offered
Long Cove Club is the place for fun and adventure! Dip in one of its pools for a refreshing swim, or kayak/paddleboard around the tranquil lagoon. Tennis and golf enthusiasts can show off their skills on the courts and courses. Fitness fanatics can join their specialized classes, instructed by professionals. Don't forget to book ahead to avoid any last-minute hiccups. And, with the Club's impressive sustainability efforts, Mother Nature would be proud to become a member!
Sustainability Efforts at Long Cove Club
Long Cove Club's Environment-Friendly Initiatives
Long Cove Club, located in Hilton Head Island SC, is taking rapid strides to preserve and promote the environment. Aiming to reduce its ecological footprint, the Club has initiated several measures such as:
Using solar panels
Installing energy-efficient lighting and appliances
Promoting water conservation
Sourcing locally grown produce for its restaurants
This eco-friendly approach extends to the Club's operations, too. Long Cove Club ensures that its landscaping activities align with the regional ecology, employs green cleaning practices, and recycles waste by donating it to local organizations. These initiatives have significantly reduced the Club's impact on the environment and have resulted in a lower carbon footprint.
In a further drive towards sustainability, the Club works closely with local environmental groups and regularly organizes awareness campaigns and events for its members to encourage participation in environmentally friendly practices. Long Cove Club's efforts make it a role model for other clubs and communities to follow in promoting sustainability.
Join Long Cove Club today and be part of the positive change towards a greener and sustainable future.
The Long Cove Club may have pristine natural surroundings, but let's be real, the only truly 'green' initiative most of us care about is the golf course.
Environmental Conservation Initiatives
Long Cove Club is leading the way with their eco-friendly and sustainable initiatives. Solar panels, rainwater harvesting, and recycling programs all reduce their carbon footprint. They also use native plants in landscaping, saving water and helping local flora and fauna.
Partnerships with local organizations spread awareness about environmental issues. Beach cleanups, tree plantations, and other events promote environmental protection.
Long Cove Club takes it even further with educational experiences for residents. They learn methods for responsible waste disposal, energy conservation, and organic farming.
Let's take inspiration from Long Cove Club's Environmental Conservation Initiatives. Small changes now will make a big difference for future generations. We may not be saving the world, but our social responsibility and community outreach programs make our corner of it better.
Social Responsibility and Community Outreach Programs
At Long Cove Club, we are committed to benefiting the community and social responsibility. We believe that creating a positive effect on the environment, economy and society is essential. Our initiatives include:
Environmental sustainability
Educational opportunities for underprivileged communities
Cultural programs that celebrate diversity
We strive to inspire others to join us in our cause.
We also support local businesses and engage with nearby organizations in order to build strong communities. We understand the importance of preserving natural resources. So, we work to reduce waste by recycling and eco-friendly methods.
At Long Cove Club, we demonstrate compassionate leadership in all aspects of our operations. We aim to create meaningful relationships with those around us, while raising awareness of important issues.
Our members place great value in knowing that their contributions are essential in making their community more prosperous, diverse, and environmentally friendly – all while enjoying luxurious experiences at our club. We asked members about their sustainable practices, and they had more to say than just 'reduce, reuse, recycle'.
Testimonials of Long Cove Club Members.
Members of Long Cove Club have expressed their appreciation for the experiences they had. They love the amenities and professional services. Their reviews show this.
They have found their paradise. The properties are designed to the highest standards, with stunning views and water features. There are luxurious activities like golf, tennis and boating. Plus, members can enjoy elegant dining.
Long Cove has tailored activities based on members' preferences. It's more than a club. It's a lifestyle. This is why they keep coming back.
Pro Tip – Looking for holistic living? Check out Long Cove Club!