Luke is an avid weekend-warrior golfer from the East Coast who plays golf more than he cares to admit.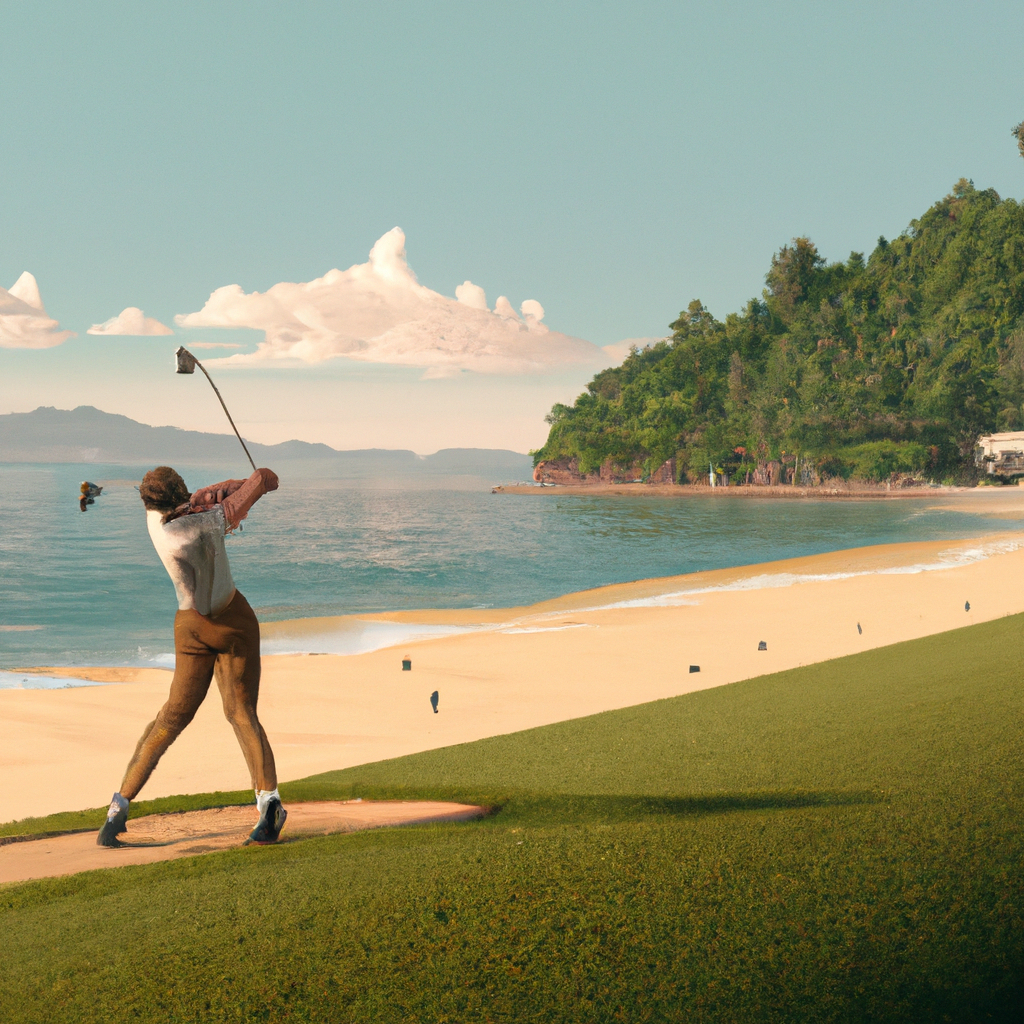 Luxury Golf Courses in Asia
To explore the world of luxury golf courses in Asia, we have put together a section discussing the top courses available in the region, alongside highlighting the features of these high-end options. Whether you're an avid golfer or just looking for a luxurious getaway, our sub-sections on the top golf courses in Asia and features of luxury golf courses in the region are perfect solutions to planning your next memorable vacation.
Top Golf Courses in Asia
Luxury Golf Courses in Asia are a golfer's paradise. Here are 4 outstanding golf destinations in Asia according to the discerning player.
Firm greens and stunning vistas await players at Mission Hills Golf Club in Shenzhen.
Enjoy a hilly terrain and picturesque views of Dalat Palace Golf Club located in Vietnam.
The Jack Nicklaus-designed Banyan Golf Club located near Hua Hin has waterholes that need strategic planning before tee-off.
Treat yourself to the famous Island green hole at Bali National Golf Club located on an Indonesian coastline.
Moreover, you can also enjoy the exceptional culinary experience amidst breathtaking landscapes and decor while playing golf in these luxurious courses.
According to Forbes Magazine, golf tourism in Asia is growing rapidly with tourists flocking to renowned courses every year.
Get ready for a hole in one experience with features that'll have you saying 'fore' more at these luxury golf courses in Asia!
Features of Luxury Golf Courses in Asia
Luxury golf courses in Asia offer an exquisite experience to avid players. These unparalleled courses are designed by world-renowned architects and are equipped with top-of-the-line amenities that enhance the overall golfing experience.
State-of-the-art facilities
Breathtaking panoramic views of mountains, oceans, and skylines
Exceptional service with personal caddies and fine dining options
Variety of challenges catering to different skill levels
Incorporation of cultural elements in course design for a unique experience
Among the features, the attention to detail sets these luxury golf courses apart from the rest. Immaculate maintenance paired with a serene atmosphere, unmatched hospitality, and premium location define the signature mark of luxury golf courses in Asia.
One such remarkable example is the Nine Bridges Golf Course located on Jeju Island in South Korea. This true masterpiece has been named as one of the best new courses in the world by Golf Digest. The course weaves its way through stunning rock formations with breathtaking ocean views, set against a background of Korea's majestic Halla mountain range.
Luxury golf courses have become a haven for those looking for an exceptional experience combining both leisure and sport while surrounded by awe-inspiring natural beauty. Rest easy in luxurious accommodations after a day of hitting balls and missing putts on some of Asia's finest golf courses.
Luxury Accommodations for Golfers in Asia
To find the best luxury accommodations for golfers in Asia, turn to the section on luxury accommodations in the article "Luxury Golf Vacations in Asia: Teeing off in Paradise." This section offers a solution on where to stay during your golf vacation, with a focus on two types of accommodations: five-star hotels with golf course facilities and villas and private residences.
Five-star Hotels with Golf Course Facilities
Looking for opulent accommodations with world-class golfing facilities in Asia? Look no further than elite hotels that boast five-star luxury amenities alongside extensive golf resorts. These properties cater to discerning travelers looking for a fairway-centric vacation experience.
Many of these luxurious properties feature championship-level courses with breathtaking views and well-manicured greens.
The hotels offer a range of amenities, including first-rate dining options, high-end spas, and stunning suites designed to make your stay unforgettable.
In addition to traditional golf options, some properties also offer virtual playing technology, so guests can perfect their game from the comfort of their rooms or suites.
For those seeking a truly unparalleled experience, many of these resorts also offer exclusive benefits like private lessons with top-notch instructors or tee times outside of normal business hours. Take your next vacation to new heights by combining exceptional accommodations with magnificent golfing opportunities.
It's been reported by Forbes that one of the most famous golfers in the world Tiger Woods is set to design two new courses at Banyan Tree Mandai Resort in Singapore.
While you may not be able to afford the green fees, these luxurious villas and private residences will make you feel like a wealthy golfer even if your handicap is more like a double bogey.
Villas and Private Residences
Luxury Accommodations for Golf Enthusiasts in Asia offer opulent Villas and Private Residences for travelers who desire bespoke experiences. These accommodations provide exclusivity, exceptional service, and unique amenities tailored to their guests' needs.
Private Pools and Scenic Views: The Villas and Private Residences feature private infinity pools overlooking lush greenery or pristine golf courses.
Spacious Interiors: The interiors of these accommodations are designed with traditional Asian accents fused with contemporary elements. They boast ample living spaces with comfortable lounges, dining areas, and well-equipped kitchens.
Dedicated Concierge Services: The properties offer 24/7 butler services that cater to the guests' every need, from laundry to grocery shopping or organizing tee times at nearby golf courses.
Access to Premium Amenities: Guests can indulge in wellness facilities such as spa treatments, state-of-the-art fitness centers or take advantage of exclusive access to nearby clubs and top-rated golf courses.
Culinary Experiences: The Villas and Private Residences have an array of dining options that include a private chef experience, poolside barbecues or exquisite restaurants on-site led by international chefs.
These luxury accommodations also offer unique outdoor activities such as guided bike tours, bird watching or hiking in the surrounding forests.
For a memorable stay in Asia's premier golf destinations such as Phuket, Bali or Hainan Island, choosing Luxury Accommodations is an excellent option for travelers looking for an upscale experience that caters to their love for golf.
Golf vacation packages in Asia: Where you can drive your balls and your bank account into the rough.
Golf Vacation Packages in Asia
To plan a perfect golf vacation in Asia, you need to explore golf vacation packages with all-inclusive or personalized options. Whether you are looking for more relaxation or customized services, you can choose the best package to suit your needs. As you read on, we'll introduce the two sub-sections – all-inclusive golf vacation packages and personalized golf vacation packages- that provide you comprehensive details and help you make an informed decision.
All-Inclusive Golf Vacation Packages
For those looking for a complete golf getaway, Asia has a plethora of options to offer. These custom-built 'Golf Vacation Packages', inclusive of green fees, accommodation, and meals, cater to all levels of golfers and offer a harmonious blend of adventure and relaxation.
| | | |
| --- | --- | --- |
| Packages | Inclusions | Locations |
| Golf + Stay Package | Green fees, Accommodation, Meals | Thailand, Indonesia, Vietnam |
| Golf + Spa Package | Green fees, Accommodation, Spa treatments | Mauritius, Sri Lanka, Bali |
| Golf + Cultural Package | Green Fees, Accommodation , Tours & Sightseeing activities | Japan, China, Cambodia |
Apart from the standard packages offered by travel agencies, some resorts also allow customization according to specific preferences or group size. Moreover, certain golf vacations include private transfers and access to exclusive clubs not open to the public.
Embark on an unforgettable golf journey now and discover hidden gems in these exotic locales. Act fast before the booking slots fill up!
When it comes to personalized golf vacation packages, it's like a choose your own adventure book – except all the options lead to a beautiful green.
Personalized Golf Vacation Packages
| | | |
| --- | --- | --- |
| Package Type | Courses | Accommodations |
| Standard Package | 2-3 Courses | 3-star Hotels or Equivalent |
| Premium Package | 3-5 Courses (including Premium options) | 4-star Hotels or Equivalent (with access to recreational facilities) |
| Luxury Package | 5+ Courses (including Exclusive options) | 5-Star Resorts or Private Villas with Personal Chef & Butler Services |
In addition to arranging golf rounds and accommodations, these packages include airport transfers, transportation to and from each course, and options for sightseeing in the local area. Extra add-ons such as spa treatments and gourmet dining experiences are also available upon request.
One satisfied customer shared how they were able to have their dream golf vacation come true with a personalized package offered by a reputable travel company. They were given the freedom to choose courses that fit their playing style while staying at luxurious resorts equipped with world-class amenities. Their travel itinerary was efficiently managed so they could relax and fully enjoy the beautiful courses of Asia.
Golfers in Asia can now relax their muscles and their bank accounts with these luxurious spa and wellness services.
Spa and Wellness Services for Golfers in Asia
To enhance your luxury golf vacation experience in Asia, explore the enriching spa and wellness services catered for golfers. With our golf and spa packages, you can rejuvenate your body and mind after a long day on the greens. In addition, our health and fitness facilities provide the perfect opportunity to maintain your fitness routine whilst away.
Golf and Spa Packages
Professional Semantic NLP variation: Spa and Wellness Services for Golfers in Asia
Golf and Spa Packages offer an ideal combination of revitalizing spa treatments and enjoyable golfing experience. This package assures sports enthusiasts of unforgettable wellness services that will leave them feeling refreshed, rejuvenated and inspired.
Exclusive upgrades – Golfers can enjoy lavish amenities such as 18-hole championship standard courses.
Therapeutic massages – Post-golf massage to get rid of strain, aches and pains.
Natural settings – Locations cover perfect serene environments away from the busy city life.
Variety of other leisure activities – Besides spa sessions, upbeat activities like swimming pools are also available.
Guests visiting the spa facilities can look forward to personalized experiences with exclusive attention given to their specific health needs. Cozy accommodation is also available with unique outdoor decks for relaxation purposes.
Do not miss out on this irresistible golf getaway in Asia bundled up with top-notch wellness services that will leave you wanting more!
Fear of missing out – Book your Golf and Spa Package now!
If you thought golf was the only place where fitness came before relaxation, then clearly you haven't been to these health and fitness facilities for golfers in Asia.
Health and Fitness Facilities
For the wellbeing and fitness of golfers, Asian clubs and resorts have a plethora of fitness amenities to choose from.
Renowned spas offering massages, acupuncture and moxibustion.
Specialised programmes such as pilates, yoga, Zumba and aerobics.
Fully-equipped gyms with professional trainers.
Steam rooms, saunas, Jacuzzis and indoor/outdoor pools.
Cuisine that caters to health-conscious athletes.
Apart from these facilities, some resorts offer meditation classes for mental clarity and mindfulness training for golfers looking to improve their game.
A well-known golf resort in Bali offers signature treatments using traditional Balinese techniques that are specifically designed for pre-and post-golf relaxation. An American golfer who visited this resort said he felt like a new man after participating in the fitness programs offered.
Get ready to loosen your belt and tighten your tastebuds with Asia's mouth-watering culinary delights for the ultimate foodie experience.
Fine Dining and Culinary Experiences in Asia
To savor the most delectable culinary experiences during your luxury golf vacations in Asia, explore the section "Fine Dining and Culinary Experiences in Asia" with its sub-sections "Michelin Starred Restaurants on Golf Courses" and "Local Delicacies and Street Food in Golf Destinations". Get ready for some mouth-watering delights as we reveal the best places to indulge in the finest cuisines in the most beautiful golf destinations.
Michelin Starred Restaurants on Golf Courses
If you are searching for an elite culinary experience with a backdrop of striking greenery, exquisite restaurants at golf courses graced with Michelin Stars should be on top of your bucket list. These fine dining destinations not only provide world-class cuisine but also offer an unforgettable dining ambiance.
The table below lists some Michelin Starred Restaurants located on golf courses that offer a unique blend of gastronomy and relaxation:
| Restaurant Name | Golf Course | Location | Number of Michelin Stars |
| --- | --- | --- | --- |
| Les Fresques | Terre Blanche Hotel Spa Golf Resort | Tourrettes, France | 1 Star |
| Ryugin | The Capitol Golf Club & Residences | Tokyo, Japan | 2 Stars |
| The Lighthouse Restaurant | Pacific Gables Estate | Cape Town, South Africa | 1 Star |
What makes these restaurants special is not just the food but their stunning locations merged seamlessly with nature. Terre Blanche's panoramic terrace provides magnificent views of the rolling hills in Tourrettes. At The Lighthouse Restaurant, guests can savor their meal while watching whales spout from the nearby ocean.
It's hard to resist indulging in world-class culinary experiences amidst awe-inspiring outdoor scenery. Put it on your travel itinerary and make lasting memories that will leave you wanting more.
Don't miss out on experiencing these exquisite Michelin-starred restaurants situated within lush golf grounds. Book a table now and fascinate yourself with spectacular nature views while enjoying scrumptious meals masterfully prepared by top chefs.
Who needs fine dining when you can indulge in the unique and flavorful street food of golf destinations? Don't miss out on the hole-in-one bites!
Local Delicacies and Street Food in Golf Destinations
Street food and local delicacies are an integral part of any travel experience, especially in golf destinations. Here are some mouth-watering culinary experiences to try whilst exploring the local area:
Savour Korean BBQ dishes at golf resorts in Jeju
Taste delectable grilled seafood dishes at Okinawa's ocean-side food stalls
Sample fried rice and seafood curries at Hua Hin's street markets in Thailand
Indulge in Banh Mi sandwiches paired with Vietnamese coffee in Vietnam's Danang
Try Malaysian Nasi Lemak and Teochew Steamed Fish at Sentosa in Singapore
Explore Taipei's famous night markets for street foods such as smelly tofu and Taiwanese sausages
One must not miss the variety of flavours, cultures, and presentation styles found in each dish across different countries. However, it is important to keep track of personal dietary requirements, hygiene standards, and explore only credible food vendors.
A fun fact to know is that many golfers have dietary restrictions during tournaments. Hence, chefs are trained to prepare tasty alternatives that meet their dietary needs without compromising on quality or flavour. This highlights the importance and versatility of golf destinations catering not only to golfers but also their gastronomic preferences.
A trip to Asia isn't complete without some cultural exploration, just like a fine dining experience isn't complete without dessert.
Cultural and Sightseeing Tours in Asia
To explore the beautiful locations and experienced cultural diversity, you need to go beyond golf courses in Asia. In order to enhance your experience with luxury golf vacations, include cultural and sightseeing tours. Bucket list destinations and historical and cultural attractions around golf courses are two sub-sections we will discuss to make your Asian trip unforgettable.
Bucket List Destinations for Golfers in Asia
For avid golfers, Asia offers a myriad of bucket list destinations. Here are six must-visit locations for golf enthusiasts in Asia:
Visit top-rated courses in Japan such as the Hirono Golf Club in Hyogo or the Kawana Hotel Golf Course in Ito City.
Experience the lush greens and tropical warmth of Indonesia's Bali National Golf Club, the Ria Bintan Golf Club or Jakarta's Royale Jakarta Golf Club.
Explore scenic courses at Thailand's Chiang Mai Highlands Golf Resort or Hua Hin's award-winning Banyan Golf Club.
The Mission Hills Resort in Shenzhen, China with its 12 championship-level courses is a dream destination for every golfer.
Vietnam's Laguna Lang Co resort offers breathtaking views along with its stunning golf course designed by Sir Nick Faldo.
Australia's Hamilton Island on the Great Barrier Reef is another picturesque location that features a world-class course designed by renowned golfer Peter Thompson.
For an added luxury element, some of these destinations offer accommodation within their premises. With distinguished views from each course, one can expect nothing less than an unforgettable and satisfying round of golf at any of these locations.
Did you know that despite having a relatively short history of golfing, Japanese women are dominating the industry? In fact, according to Reuters, out of almost 2.5 million registered golf club members in Japan, half are now women! With numerous exceptional courses already abundant in Japan fairways do not come without an abundance either.
Even if you're not a fan of golf, you can still appreciate the historical and cultural attractions nearby – just don't get too caught up in the history and accidentally hit a hole-in-one.
Historical and Cultural Attractions near Golf Courses
Looking to explore Historical and Cultural landmarks while golfing in Asia? Here are some recommendations:
Visit the Great Wall of China near Beijing's Pine Valley Golf Club
Experience ancient Japanese culture at Hirono Golf Club near Kyoto's Imperial Palace
Explore Vietnam's history at Danang Golf Club, nearby the UNESCO World Heritage site of Hoi An
Discover Thailand's temple architecture at Black Mountain Golf Club, located near The Grand Palace in Bangkok
Take a trip to Cambodia's Angkor Wat after playing golf at The Faldo Course in Siem Reap
Witness Sri Lanka's ancient ruins after a game at Victoria Golf and Country Resort, located near Kandy's Temple of the Tooth Relic
For a unique experience, why not plan your next trip around these cultural landmarks instead of solely focusing on your golf game? Immerse yourself in the local culture and gain an understanding of their history and traditions.
To make your trip even better, consider taking local guided tours with knowledgeable experts who can provide deeper insight into the historical sites. Don't forget to try delicious local cuisine and buy souvenirs as a reminder of your unforgettable journey.
Why settle for a hole in one when you can have a whole vacation in one?
Luxury Golf Travel Tips in Asia
To plan your luxury golf vacation in Asia with ease, you need to know the best time to visit for golfers and the visa requirements. Never let any unexpected situation ruin your well-deserved getaway, which is why travel insurance is essential. This section on luxury golf travel tips in Asia will provide you with a solution to these three sub-sections.
Best Time to Visit for Golfers
For Golf Enthusiasts, timing your trip is one of the critical aspects to consider. One semantic variation could be "Optimal Golfing Periods" in Asia. The best time largely depends on the region you choose; for instance, November to February is suitable for clear weather in Thailand and Cambodia, while June to August has excellent playing conditions across China.
Ideal golf weather across regions varies extensively, but another variation on this could be "Climate Considerations." During subtropical monsoons in Vietnam or Malaysia, between June and October, heavy showers are quite common; hence Tee times may get delayed. It's best to visit these places from November through February when monsoon season retreats in favor of mild weather.
An exquisite example that showcases this distinction is the Singapore Island Country Club centenary course's landmark. Founded in 1891 by expatriates who initiated their British colonial community with a golf club, they subsequently built an irrigated nine-hole course east of Orchard Road in 1904 before migrating to Bukit Timah twenty-five years later.
Pack your passport and a sense of adventure – just don't forget the travel insurance, unless you're willing to test your luck on the fairways.
Visa Requirements and Travel Insurance
When traveling for luxury golf trips in Asia, it's important to consider visa requirements and travel insurance. To ensure a smooth trip, research the specific visa requirements for each country beforehand and apply accordingly. Additionally, investing in comprehensive travel insurance can provide peace of mind in case of unexpected accidents or illness while on the trip.
In some cases, certain countries may require additional documents such as proof of vaccination or a negative COVID-19 test result prior to entry. Therefore, it's crucial to stay up-to-date with any changes or updates to visa requirements and plan accordingly.
To avoid any future issues during your trip, make sure to purchase travel insurance coverage that includes medical emergencies, trip cancellation, and other unforeseen circumstances that may arise during your luxury golf travels in Asia.
Considering the potential expenses related to a canceled trip due to unexpected circumstances or illnesses, travelers should invest in a comprehensive travel insurance policy before embarking on their golfing adventure.
Pack your clubs and prepare for an Asian adventure that will make even the most seasoned golfer green with envy.
Conclusion: Luxury Golf Vacations in Asia – A Dream Come True.
Luxury Golf Vacations in Asia offer a paradise experience for golf enthusiasts. With vast green landscapes, high-end amenities, and exceptional service, this dream vacation is within reach. The serene environment coupled with soothing wildlife sounds creates an ambiance that is second to none.
Alongside luxurious accommodation and favorable weather conditions, Golfers have access to the best courses in Asia that are designed to challenge players of all levels. From Tom Fazio's DLF Golf & Country Club in India to Banyan Tree Golf Club in Thailand, each golf course ticks the box for a luxury retreat while providing an unforgettable golfing experience.
For those looking for a different type of sporting adventure, Asia boasts other sports like snorkeling at Great Barrier Reef or rock-climbing in Krabi. To further enhance your trip as you explore what Asia has to offer beyond golfing our suggestion would be Spa treatments at renowned facilities.
Finally, these luxury vacations will provide more than just exemplary experiences but also encourage responsible tourism practices by supporting eco-friendly resorts and giving back to communities through charity partnerships.