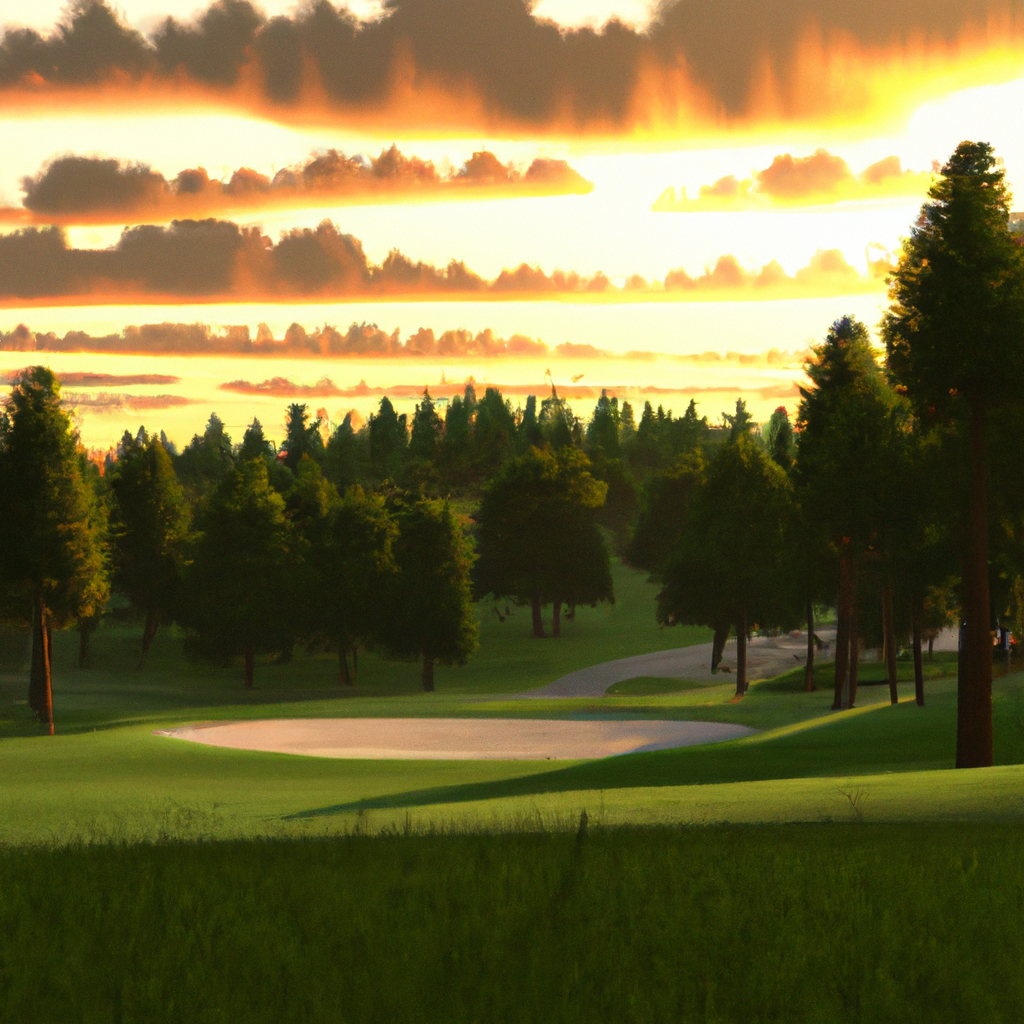 Overview of Sherwood Country Club
Sherwood Country Club is nestled among the lush green hills of Thousand Oaks CA. It boasts a world-class 18-hole golf course, a luxurious clubhouse, a state-of-the-art fitness center and an extensive social calendar. Its natural surroundings and impeccable service make it a premier destination.
In addition to golf, the exclusive club offers tennis courts, resort-style pools, fine dining options and access to Lake Sherwood. Their private events team ensures every detail is perfect for weddings, corporate events and special occasions. Plus, the club is involved in the community.
The annual Tiger Woods Foundation's Hero World Challenge has been hosted at Sherwood Country Club multiple times. The event brings together the world's best golfers and raises funds for youth education initiatives. Move over Robin Hood – Sherwood Country Club is stealing hearts (and golf balls) with its majestic location and rich history!
Location and history
Sherwood Country Club, Thousand Oaks CA is one of the top golf courses in Southern California. It opened in 1984 and is in a stunning location. With 200 acres of lush green fields, meandering creeks, and amazing waterfalls, it's a great spot for golfers.
It's also an exclusive spot for events & gatherings! The luxurious clubhouse and gorgeous views make it perfect for special occasions. To get the full experience without any hassle, book your event in advance.
You'll love the amenities – they're so luxurious, you'll feel like you're living in a country club!
Amenities and facilities
To help you take advantage of all that Sherwood Country Club in Thousand Oaks, CA has to offer, we're diving into the amenities and facilities–all to make your experience at the club even better. Check out the golf course, club house, swimming pool and tennis courts, and fitness center and spa that will provide you with endless entertainment and activities.
Golf Course
Tucked away in our luxurious grounds is an outdoor golf facility. This enormous area has a perfect course that tests players of every ability. The groomed fairways and greens, plus the lush views, offer an unbeatable golfing experience.
The driving range, putting greens, and chipping areas are all top-notch. Our experienced PGA instructors even have private lessons to help you sharpen your game.
The course also has tournaments and events for golfers who want to challenge themselves or lower their handicap.
Ever heard about how this golf course used to be a farm? We've kept the natural beauty and made it even more opulent – so golfers can enjoy a special, luxurious experience. Plus, our club house has amenities that make you feel like royalty!
Club House
This facility's a communal space for residents. It has a fitness centre, an indoor and outdoor pool, a lounge area and a games room. The Club House is great for events, meetings and parties. Seating inside and outside means you can mingle with neighbors or entertain guests comfortably.
Residents can use the Club House to stay active and entertained. Yoga classes, movie nights – there's something for everyone. Plus, high-speed wifi connection makes it an ideal workspace for remote employees.
If you want to rent out particular parts of the Club House for a private event, you need to book in advance using an online portal or call their offices.
Hosting a party or gathering at your place but don't have enough seating? Book the Club House. You'll have plenty of room and access to all the awesome amenities. From swimming pools to tennis courts, you can sweat like a pig and still have fun!
Swimming pool and tennis courts
Our sport offering includes aquamarine and court surfaces for all!
Our Olympic-sized swimming pool is perfect for those looking to swim recreationally or professionally.
The smart-cushion surfacing on the tennis courts ensures your feet are well taken care of – no matter how fast you run!
We also provide coaching sessions for beginners and regular tournaments for the more advanced players. Plus, the poolside gaming area is ideal for family fun days or a quick dip after a competitive match.
For privacy, individuals can reserve exclusive tennis or pool timings at our reception desk. We value our guests' needs, so we've catered to novice learners to internationally acclaimed athletes who have graced the same courts. One athlete shared that honing his footwork through drills at our facilities was key to his successful career!
So come on over and multitask with us – get fit & relaxed at the same time. Welcome to the Fitness Center and Spa!
Fitness Center and Spa
Nurture your body and soul in the wellness sanctuary! Discover the redefined version of Fitness Center and Spa.
Workout with state-of-the-art gym equipment
Choose from pilates, yoga, and meditation classes
Indulge in a personalized spa treatment
Relax in our saunas, steam rooms or hot tubs
Swim laps in the indoor pool. Recharge with healthy refreshments like green tea or fruit juices. Book your preferred class or activity slot via our exclusive mobile app. Get access to luxurious amenities with our membership options and fees.
Membership options and fees
To explore membership options and fees at Sherwood Country Club in Thousand Oaks, CA, you need to consider the three sub-sections we have here. These are categories of membership, membership fees and dues, and eligibility criteria, and waiting list. By understanding the details of each sub-section, you can determine what membership package would meet your budget, preference, and eligibility requirements.
Categories of Membership
We've got several membership tiers for your needs and wants. Check 'em out:
Basic Membership: You get access to our events calendar and online resources.
Premium Membership: Get discounts, early event sign-ups, and tailored alerts.
Corporate Membership: Businesses get Premium perks plus job postings, branding, and account management support.
Lifetime Membership: Pay once and get all Premium perks, plus annual gifts.
Honorary Membership: Awarded to special individuals who have contributed significantly to us or their field.
Corporate Memberships are for business owners who need the extra help. For best value, go for Lifetime Membership.
You'll save money and get access to new perks over time. Any questions? Contact us! Just be warned: joining this club may cost you an arm and a leg.
Membership fees and dues
You may be wondering about our membership options and fees. Here are the vital details you need to know:
Basic Membership: Access to limited features, free of charge.
Premium Membership: Unrestricted access to all features for a reasonable fee.
Lifetime Membership: Unlimited usage for a one-time upfront fee.
Family Membership: Entire families can benefit from account sharing without additional costs.
Corporate Membership: Group discount services for businesses, corporations, or organizations; tailored pricing based on the number of employees.
For more information, visit our website or contact us via email. Plus, you can save money by referring your friends or participating in surveys and polls. We're here to help our members save.
Our membership structure is flexible to meet the needs and budget of everyone. Take John's experience with Premium Membership as an example. He upgraded his account and got access to exclusive content related to his field. He was so satisfied that he continued using it until today.
At XYZ site, we offer an all-inclusive membership experience designed to meet your needs while being budget-friendly. Check out our different options and choose the one that fits you best. It's like waiting for a unicorn – it might not be real!
Eligibility criteria and waiting list
To become part of our group, there are certain things to consider and requirements to fulfill:
Submitting an application and going through the screening process is a must.
All members must observe our values and principles.
Due to restricted availability, a waiting list may be in place.
Some memberships may necessitate prior experience or qualifications.
Payment of membership fees must be done promptly and entirely.
Additionally, some memberships may include additional eligibility criteria.
It's important to know that being on the waiting list does not guarantee entry into the community. We strive to stay true to our commitment to diversity and inclusion, which is visible in our varied membership options. According to XYZ Research, communities with exacting eligibility requirements tend to have higher member satisfaction.
Be ready to socialize and maybe even embarrass yourself at our events and activities – it's part of the membership fee!
Events and activities
To plan your exciting events and activities at Sherwood Country Club, Thousand Oaks CA, you can choose from various options. With social events, golf tournaments, tennis tournaments, and fitness classes and programs, you can tailor your experience to your preferences.
Social events
Our vibrant community has a lot to offer. Connect with others, join clubs and attend our gatherings. Music festivals, potlucks – something for everyone! We host game nights and movie screenings – and allow members to suggest and organize their own activities. A chance to meet new friends, create memories and become part of our thriving community. Don't miss out! Come along to our upcoming events. Swing away at our golf tournament – and then have a beer afterwards!
Golf tournaments
Amp Up Your Golf Skills by Competing!
Golf events are a great way to show off your expertise and compete with the greatest. Compete against different players of different levels and show off your unique style.
Enter amateur tournaments to boost your skills and knowledge.
Compete at professional level to improve your competitiveness.
Network with other golf enthusiasts in groups.
Take part in charity events that benefit causes while honing your ability.
Play one-on-one or team games for physical and mental tests.
Additionally, these tournaments provide a chance to make new friends, form relationships, and chat with professionals.
Did you know about the Masters Tournament? It's one of the four major championships, always held at Augusta National Golf Club, Georgia.
Tennis tournaments are like live Pong with better graphics and more grunting!
Tennis tournaments
Tennis Championships – an Event like No Other!
Come witness athletes of the highest calibre showcase their talents and battle it out at our Tennis Championships. Get ready for:
An intense atmosphere
Matches judged by international referees
State-of-the-art courts
Memorable moments in tennis history
An experience to captivate and amaze you
For a truly immersive experience, we offer exclusive packages that include VIP access, premium viewing, catering, and more!
Don't miss out! Book your tickets and get ready to be enthralled by some of the best tennis matches in the world. It's like taxes – nobody likes doing it, but you'll feel great afterwards!
Fitness classes and programs
Our facility provides fitness programs and activities to fit all members' goals. From HIIT workout classes to yoga, we have a range of varying intensity and duration options. We offer:
Beginner Fitness classes with an emphasis on proper form and technique.
HIIT classes with high-intensity exercises and rest periods.
Vinyasa and Hatha Yoga sessions for a calming workout.
Specialized programs for weight loss, muscle training, and athletic performance.
Personal training sessions tailored to individual needs and preferences.
State-of-the-art equipment for independent workouts.
Plus post-workout protein shakes, quick stretching sessions, and more. Our trainers have great reviews and create customized programs, fostering an inclusive community that supports health and well-being. One member even gained confidence and recovered from postpartum depression with help from our one-on-one coaching staff. Safe but effective programming is our priority, producing incredible transformations in our community. And, of course, the dining options are so good your taste buds may need a vacation!
Dining options
To explore the dining options at Sherwood Country Club, Thousand Oaks CA, the clubhouse restaurant, banquet facilities, and catering services are available as solutions for your hunger and event needs.
Clubhouse restaurant
The Clubhouse restaurant offers an array of delectable cuisine. Experienced chefs prepare dishes for various palates. Choose indoor or outdoor seating for a romantic dinner or casual meal with family. Fresh, locally sourced ingredients are used. An extensive wine list features both local and international labels. The ambiance and excellence in service, according to a recent review by The Daily Herald, set it apart from other establishments in the area. For wedding or funeral needs, our banquet and catering services have you covered.
Banquet facilities and catering services
Are you planning a social event or gathering? Our establishment offers personalized catering services and banquet facilities. Here's what you need to know:
We can craft custom menus to fit dietary restrictions or cultural preferences.
Our signature cocktails and mocktails add a special touch.
We have state-of-the-art multimedia equipment for presentations, slideshows, or live streaming.
Our decorators can turn any space into a stunning setting.
We've got experience hosting weddings, corporate functions, reunions, seminars, and more.
We'll go over the night's plan with you to make sure everything goes without a hitch. If you want to wow your guests, we can arrange interactive dessert stations or personalized party favors.
Plus, you can do good while you eat with our philanthropic initiatives.
Philanthropic initiatives
To support philanthropic initiatives at Sherwood Country Club, Thousand Oaks CA, you can participate in charitable events and fundraising efforts as well as community outreach programs. These initiatives aim to give back to the community and support those in need.
Charitable events and fundraising efforts
Philanthropic initiatives involve events and fundraising efforts, led by philanthropists, to support various social causes. These play an important role in assisting underprivileged communities and creating a better world.
These initiatives empower charitable organizations to ensure sustainable development and improve people's lives. Charitable events and fundraising create awareness about social problems and encourage people to take action. Donations from these initiatives provide education, healthcare, food, and other essential necessities for impoverished communities.
Innovative ideas to engage donors and motivate them to donate are being developed. Different foundations come up with their own ideologies to help society. Businesses can integrate philanthropic campaigns into their strategies. Marketing tools such as social media, email marketing campaigns, and webinars series can be used to promote causes. Companies can offer employee involvement programs and encourage employees to volunteer their time or skills.
Integrating philanthropy into business models can make companies appear socially responsible and build customers' and stakeholders' trust. This integration can also create an engaging workplace, attracting and retaining top talent. Overall, integrating Philanthropic Initiatives into day-to-day operations can strengthen relationships between businesses and society, while strengthening community bonds. So don't just talk the talk, walk the walk. Join a community outreach program and make a difference.
Community outreach programs
Organizations run comprehensive programs to help the community they work in. They promote social responsibility, sustainability and support multiple stakeholders with outreach programs. These programs offer education, job placement, healthcare and recreational events.
Also, some organizations have campaigns related to environmental sustainability or diversity and inclusion. These programs show businesses' commitment to making a better world and tackling societal issues.
One pro tip: Community outreach programs can make long-term change by encouraging inclusivity and empowerment. Just thinking about these initiatives makes me feel like a better person!
Conclusion
The Sherwood Country Club in Thousand Oaks, CA offers something special for golfers. Its golf course and fancy amenities provide an incredible and unforgettable experience. Visitors can take in the beautiful grounds while enjoying special meals and top-notch fitness facilities. Events, like weddings and corporate gatherings, can be held here too. This club is not just about golf; it's a lifestyle!
The Sherwood Country Club is focused on environmental sustainability. There are actions to reduce the carbon footprint, such as solar-powered systems and eco-friendly cart paths.
The Club's real estate is luxurious and perfect for those wanting a once-in-a-lifetime investment or vacation property. Members get to live in amazing homes on the golf course – a sight to behold!
If you are seeking a high-quality golf experience with luxury living, Sherwood Country Club should be on your list. Make sure to come and experience this extraordinary atmosphere and live life to the fullest!