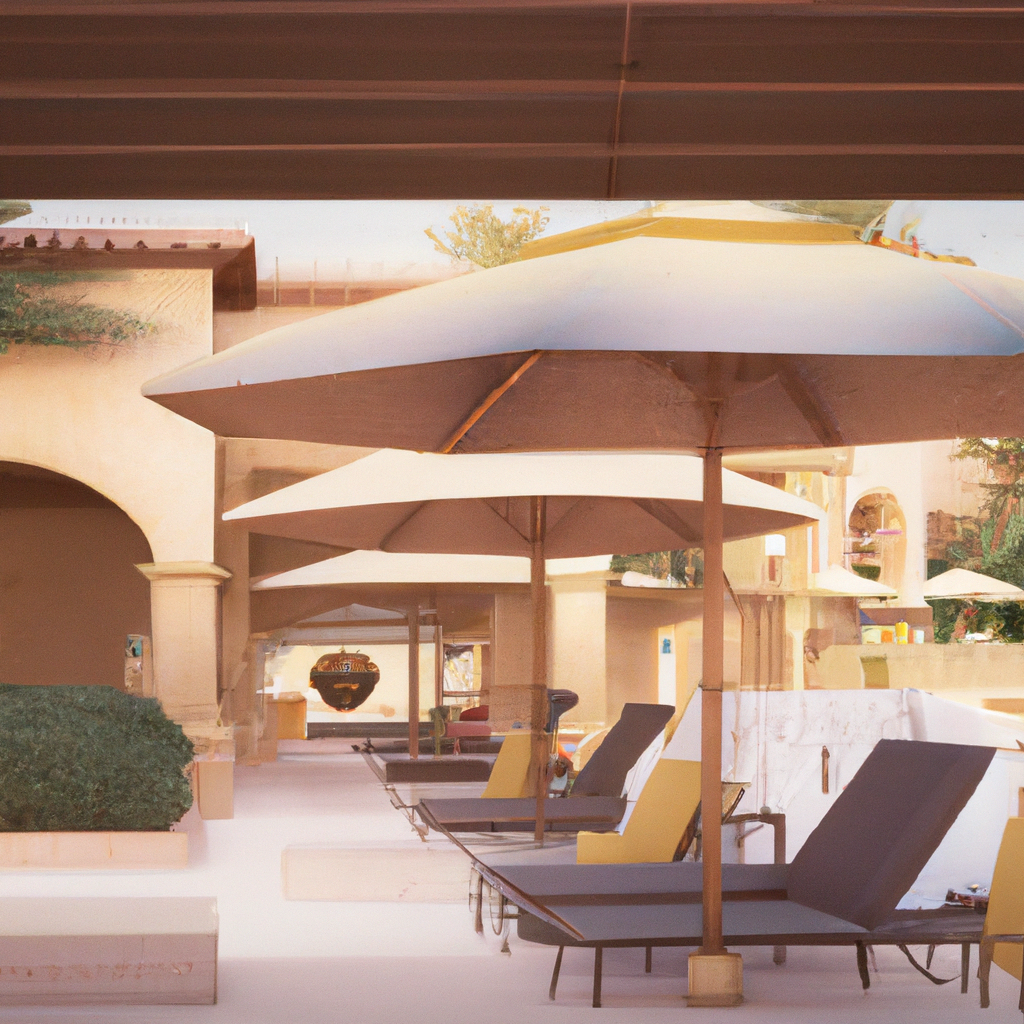 Introduction to Silverleaf Club, Scottsdale AZ
Silverleaf Club is an elite, private residential community situated in Scottsdale, Arizona. It provides a lavish living environment with top-notch amenities like a championship golf course, fitness center, fine dining restaurants and resorts-style swimming pools. Silverleaf Club is known for its stunning views of the McDowell Mountains and lush Arizona desert.
The club offers different types of residences such as luxury villas and custom homesites. Events and activities are available for all ages, making it ideal for families. With modern facilities and nature, visitors can experience the utmost comfort at Silverleaf Club.
In addition to these amenities, Silverleaf Club has an outstanding staff offering quality services in an upscale yet intimate atmosphere. Employees create a one-of-a-kind atmosphere and treat each member with respect and dignity while giving attention to detail.
Pro Tip: Book in advance to have the unparalleled luxury experience at Silverleaf Club – one of America's most popular residential communities. Who needs a gold-plated toilet when you can have access to a private mountain?
Amenities at Silverleaf Club
In Silverleaf Club, members can indulge in an array of exclusive leisure facilities and world-class amenities. These perks ensure an unforgettable experience that promotes health, relaxation, and satisfaction.
State-of-the-art fitness center with top-quality equipment and certified personal trainers
Spa and wellness center that offers a range of therapies, massages, and beauty treatments
Championship golf courses designed by renowned architects and offering stunning views
Outdoor recreational options such as tennis, hiking, and cycling to enjoy the natural surroundings
Fine and casual dining venues that serve exquisite cuisine prepared with fresh, locally sourced ingredients
Moreover, visitors appreciate the attentive service provided by the staff, who are always available to cater to their needs and preferences.
One notable fact is that Silverleaf Club has been named as one of the 25 Platinum Golf and Country Clubs in America by Club Leaders Forum in 2021.
Fore-get about just hitting balls, at Silverleaf Club's golf courses, you'll be swinging in a paradise with breathtaking views and expertly manicured fairways.
Golf Courses
Head to Silverleaf Club for unique golfing experiences! The 18-hole championship course, designed by Tom Weiskopf, offers stunning landscapes and undulating terrain. Or check out the challenging Par-3 course with pristine greens and obstacles.
The Club provides members with personal lockers, practice areas, top-rated equipment rentals and customized golf lessons. Plus, enjoy other amenities such as fine dining, swimming pools, spa treatments, and fitness centers.
Golf Digest states that Silverleaf Club offers "unparalleled possibilities" for a great round of golf. Enjoy relaxation at the spa, or order a strong drink if you're on a budget.
Spa and Wellness Center
Rejuvenate and relax at Silverleaf Club's luxurious spa. Get a massage, facial, or body treatment tailored to you! Unwind in the steam, sauna, and whirlpool, then go for a swim in the indoor or outdoor pool. Keep up your wellness routine in our state-of-the-art gym, with cardio and weight machines, plus group fitness classes. Try mind-body programs with holistic solutions like meditation and yoga classes. Let our expert trainers guide you to health! Have healthy refreshments in the cafe, or read in the relaxation lounge.
T+L named Silverleaf Club Spa one of America's top spas in 2021. Plus, dine with gourmet meals and pretentiousness!
Dining Options
The Silverleaf Club offers a delightful culinary experience! Enjoy contemporary dishes from skilled chefs, paired with the perfect wine and top-notch service.
Try seasonal food at The Market for breakfast and lunch.
Stone House has an American menu and stunning mountain views.
Upper Lodge offers modern Italian fare.
You can even book private dining rooms for special events. Plus, the festive courtyard hosts live music and custom menus every Sunday night.
Forbes Travel Guide 2021 calls Stonehouse "one of Scottsdale's most picturesque restaurants" with locally sourced ingredients. Work up a sweat in the Silverleaf Club's fitness center — even the personal trainers have personal trainers!
Fitness Center
Silverleaf Club – An Amazing Fitness Experience!
At Silverleaf Club, members can enjoy a comprehensive fitness experience. The wellness center features:
State-of-the-art equipment
Group fitness classes with certified instructors
Personal training services
Cycling studio
Pilates reformers
In-house physical therapy services
Plus, members can relax in the sauna and steam room. There's also nutritional coaching available.
The club also hosts fitness challenges and events to promote healthy competition and camaraderie among members.
Silverleaf Club has been named one of the top 100 gym facilities in the country by Men's Health Magazine.
It doesn't matter what kind of exerciser you are – Silverleaf Club has something for everyone. Plus, there's a pool and water park! So pack your trunks, lather on the sunscreen and get ready for an awesome adventure!
Pools and Water Park
Come to the Aquatic Haven of Silverleaf Club for a reviving and pleasurable experience! From tranquil pools to thrilling water slides, this amenity is a must-visit for families. Here are five interesting points to know about the Pools and Water Park:
The 7,600 square-foot main pool is a peaceful haven with plenty of rest options.
The family-friendly leisure pool offers a splash pad, toddler area, and 1,600 square-foot play pool.
For excitement lovers, two waterslides are just what you need!
One-third mile lazy river is perfect for those who love to relax.
The poolside café serves drinks, food, and even desserts!
Moreover, private cabanas provide luxurious comfort and personal space. These well-appointed spots offer extra shade and are reserved for club members.
A noteworthy part of its history is that professional swimmer Michael Phelps inaugurated the Olympic-sized lap pool in May 2008. This addition was another step in making this section of the club a watery paradise. Get your own piece of heaven at Silverleaf Club – renting is paying for someone else's enjoyment!
Real Estate Options at Silverleaf Club
Real Estate Choices at Silverleaf Club
Silverleaf Club, located in Scottsdale, AZ, offers a range of real estate choices. From luxurious villas to custom homes, the club boasts a diverse selection of properties catering to different preferences and lifestyles.
In order to provide a clear overview of the real estate options at Silverleaf Club, the following table showcases the properties along with their features:
Property Type
Features
Villas

2-4 bedrooms
courtyard
pool
outdoor kitchen

Estate Homes

5+ bedrooms
spacious outdoor living
custom finishes

Custom Homesites

0.5+ acres
breathtaking views
personalized designs
It is worth mentioning that Silverleaf Club also offers membership packages that provide access to its 18-hole golf course, spa, fitness center, and dining venues.
For those who seek exclusivity and luxury in their living space, Silverleaf Club presents a unique opportunity to invest in not just a property, but a lifestyle.
If you're looking for the perfect home, the time to act is now. Don't miss the chance to become a part of the Silverleaf community and all that it has to offer. Visit Silverleaf Club today and make your dream home a reality. Who needs a vacation when you can just live in a luxury home or villa at Silverleaf Club and feel like you're on a permanent holiday?
Luxury Homes and Villas
At Silverleaf Club, enjoy lavish residences with roomy living areas, sumptuous amenities, magnificent views, and extraordinary lifestyle facilities. These homes are ideal for those who seek opulence, serenity, and class.
Pick from custom-made estates, one-of-a-kind villas, up-to-date townhomes, and more. Savor premium features such as private pools, sophisticated kitchens, state-of-the-art fitness centers, championship golf courses, and a variety of dining choices. Escape to an indulgent world where luxury meets nature at Silverleaf.
Silverleaf Club stands out for its dedication to delivering personal experiences and building a community. With over 2,000 acres of Sonoran Desert, the community provides access to shopping and cuisine – making it a haven in the city.
The Agency Arizona team says Silverleaf Club is "one of the most sought-after addresses in all Arizona for those looking for luxury amenities coupled with unparalleled architecture." If you want to design your dream home, these custom home sites are the perfect chance.
Custom Home Sites
Constructing Prospects at Silverleaf Club
Silverleaf Club provides special opportunities for constructing custom luxury homes. Carefully built and strategically placed, these lots are ideal for those who seek to build their ideal home in a desirable area.
A Register of Spectacular Custom Home Sites
Check out this register of outstanding home sites on offer at the Silverleaf Club:
| Custom Home Site # | Size (in acres) | Views |
| --- | --- | --- |
| 101 | 1.34 | Golf Course, City Lights |
| 102 | 2.05 | Desert Canyon |
| 103 | 2.15 | McDowell Mountains |
Striking Home Site Features
The stunning custom homes on the Silverleaf hillsides present magnificent views of mountain peaks. Some sites offer breathtaking views of Scottsdale city lights, visible from elevated golf courses or club restaurants.
Advice for Your Perfect Homesite
When selecting your silver leaf home site, think about factors like location, amenities, lot setup, view, and design guidelines. Work with an experienced architect who knows Silverleaf's quality criteria for comprehensive construction plans that match community standards and your dream-home vision.
Say goodbye to gym memberships and say hello to Silverleaf Club! Spend your money on building your dream home instead.
Membership Options
Silverleaf Club offers exclusive real estate opportunities! Pick from 4 Membership Options: Equity Golf, Lifestyle, Junior Executive and Legacy Golf.
Experience luxurious living with their homes, like the Villa Reserve. It has 13 Villas, ranging from 3,000 to 5,000 square feet. Plus, private garages and outdoor living spaces.
Forbes recently called Silverleaf one of America's Best Country Clubs. That means great facilities and services. Enjoy golfing, spa-ing, and more! Live your dream life at Silverleaf Club's events and activities.
Activities and Events at Silverleaf Club
The Silverleaf Club's Abundant Range of Activities and Events indulge in the plethora of activities and events offered by the Club that can cater to the diverse interests of members.
From golfing in the Tom Weiskopf-designed course, to hitting the gym with a personal trainer, to unwinding in the spa and pools, there is no shortage of physical activities.
The social butterflies can enjoy gathering at the clubhouse for wine tastings, chef-hosted dinners, and holiday celebrations.
For those interested in intellectual growth, the Club offers enlightening talks, book clubs, and art and culture shows.
In addition, the Club provides members exclusive access to its sister club in California, and various charitable initiatives to make a positive impact in the community.
Missing out on these opportunities would be a regrettable loss. Sign up for Silverleaf Club now and bask in a world of leisure and enrichment.
Want to level up your game? Sign up for a tournament at Silverleaf Club and make your opponents wish they stayed in the clubhouse.
Sports Tournaments and Leagues
At Silverleaf Club, sports enthusiasts can join different athletic contests. These comprise of "Sports Competitions and Leagues" open to all members.
Golf Tournament: Showcase skills and compete in a tourney.
Tennis Leagues: Sign up for weekly matches against players of the same skill level.
Basketball Tournament: Form teams and battle on the court.
Swimming Competition: Race against each other or take part in relay races.
Moreover, these contests feature professional coaching, top-notch amenities and privacy. Coaches provide guidance as members use facilities such as heated pools and golf driving ranges.
Plus, interested members can initiate new competitions/leagues within the club. This adds even more sporting experiences to members' lives at Silverleaf Club. And don't forget the social events and parties – be ready to dance like no one's watching!
Social Events and Parties
Discover the Social Scene at Silverleaf Club! With a range of events to cater to all interests, you can:
Indulge in delicious cuisine
Unwind at starlit cocktail parties
Listen to live music
Celebrate special occasions
Participate in community service
Enjoy sports tournaments and fitness classes
Plus, members have exclusive access to pool parties, wine tastings, book clubs and art exhibitions. So, connect with like-minded people from diverse backgrounds!
Silverleaf Club also takes a sustainable approach to events. From locally sourced ingredients for catering to eco-friendly decorations, they strive to reduce their carbon footprint. Learn and relax – a perfect pairing!
Educational and Enrichment Programs
Silverleaf Club's programs offer a wide range of knowledge and fun experiences to members. Here's a look at some of them:
Guest Speaker Series – Featuring renowned experts from various fields and industries.
Silverleaf Book Club – Connect with other book fans and partake in stimulating talks.
Horticulture & Culinary Programs – Learn about sustainable gardening, cooking techniques, wine pairings, etc.
Cultural Enrichment Programs – Discover cultures, customs and traditions via art exhibits, music performances, and more.
Master Cooking Classes – Enhance culinary abilities by attending classes with famous chefs.
Tech Workshops – Keep up-to-date with the latest digital trends through workshops on innovative technologies.
Also, members can go for personal growth activities, such as wellness programs, fitness classes, social networking events, volunteering chances, and much more. Let your curiosity run wild at Silverleaf Club!
Furthermore, members can take part in tailored learning opportunities that target their individual interests – like advanced art lessons or private meditation sessions. Get creative and explore something new today at Silverleaf's invigorating weekday activities that encourage imagination while bringing together similar-minded people. Join a group class or just take advantage of the time off. Who needs a stunning view when you have an exclusive club with bodyguards?
Location and Surrounding Area of Silverleaf Club
Silverleaf Club in Scottsdale, AZ boasts a prime location amidst the McDowell Mountains, offering not only exceptional golf courses, but also stunning views of the surrounding natural beauty. The club is situated within a prestigious community and offers access to various outdoor activities such as hiking and biking trails, and nearby shopping and dining experiences. Additionally, the club is nearby to Arizona State University, providing ample opportunities for education and cultural experiences.
Residents of Silverleaf Club can also enjoy the myriad of benefits the club offers, such as upscale dining options and a luxurious spa, making it the ideal destination for those seeking both a refined and active lifestyle.
Notably, the community is a favorite among celebrities and athletes, with notable members including baseball player Randy Johnson and professional golfer Phil Mickelson. It's apparent that the Silverleaf Club offers both a world-class golfing experience and exclusive amenities that are second to none.
Who needs a therapist when you have miles of picturesque hiking trails to walk off your problems at Silverleaf Club in Scottsdale, AZ?
Natural Scenery and Hiking Trails
The Silverleaf Club is surrounded with amazing views. You can find plenty of hiking trails for those who love outdoor activities. The Gateway Loop Trail is a popular one, with steep inclines and elevations changes. Also, Windgate Pass Trail offers a boulder-strewn terrain with stunning views.
At Silverleaf, you have access to pristine golf courses with lush green spaces and towering peaks. It was designed by architect Bing Hu. It honors Arizona's western heritage and brings together modern elegance and sustainable landscape design.
Shopping and entertainment options are available, but don't expect bargain prices. After all, it's the Silverleaf Club, not the Silverleaf Outlet Mall.
Shopping and Entertainment Options
Surrounding Silverleaf Club is a paradise of leisure and entertainment! Enjoy designer brands like Louis Vuitton, Gucci and Prada at the nearby shopping district. Luxurious gastronomy awaits you at top restaurants like Mastro's Steakhouse and Zinc Bistro. For adventure-seekers, hot air balloon rides over the beautiful Sonoran Desert are just a short drive away. Art galleries and museums showcasing local and global art treasures also await you.
Silverleaf Club was designed over two decades ago to offer unmatched luxury living in Scottsdale, Arizona. Today, it is a symbol of lavishness, with affluent amenities and breathtaking natural surroundings. Silverleaf Club: Where luxury living and exclusivity come together for a match made in heaven.
Conclusion: Why Silverleaf Club is the Ultimate Luxury Community
Silverleaf Club is proclaimed the ultimate luxury community! Located in Scottsdale AZ, it offers more than a residential community. Residents can enjoy indulgences like world-class golfing, wellness facilities, fine dining, exclusive events, and entertainment programs. It's all within its gated area, with acre-spanning homesites and preserved natural surroundings. Plus, it's near the McDowell Sonoran Preserve for activity such as hiking, biking, and horseback riding on over 30 miles of trails.
Invest in real estate at Silverleaf Club for exclusivity and luxury living surrounded by America's stunning landscapes.