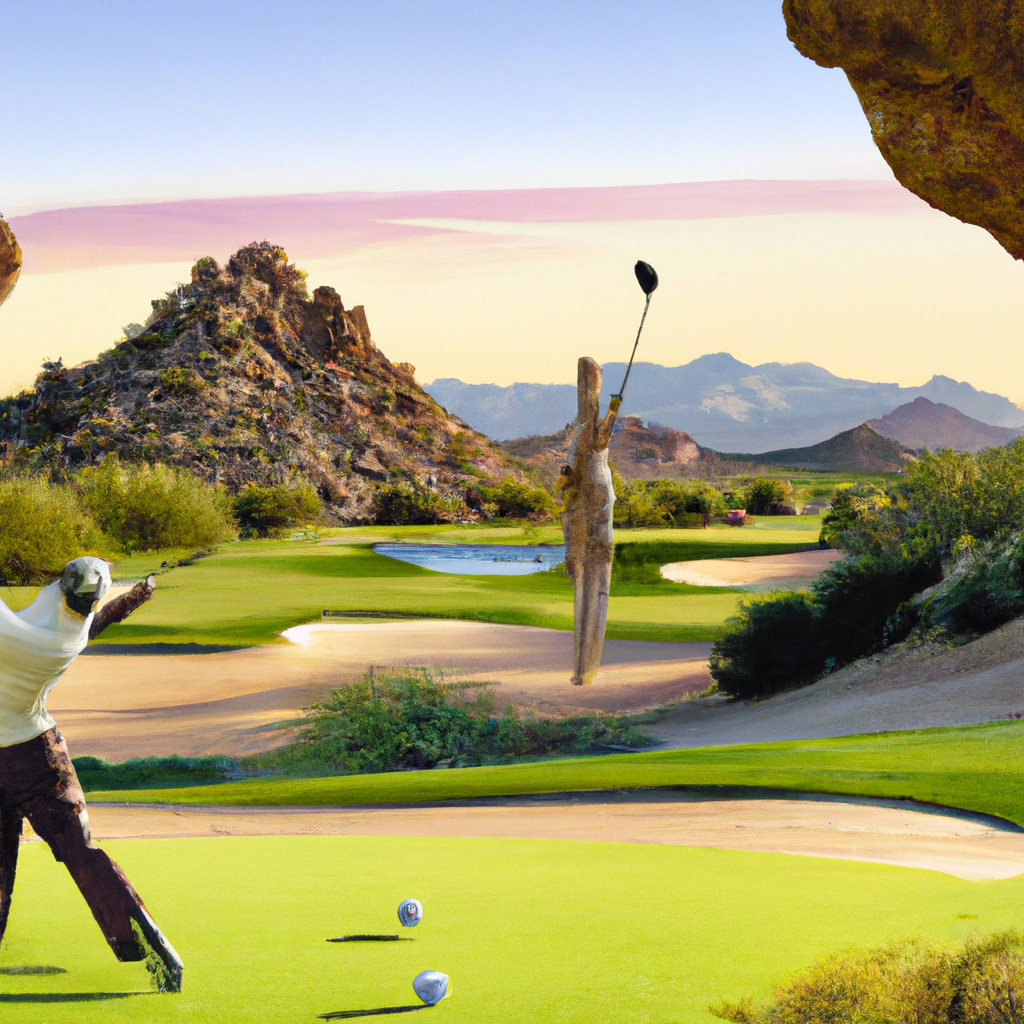 Overview of The Boulders Resort and Spa (South Course), Carefree AZ
The Boulders Resort and Spa lies in Carefree, AZ, home to the South Course. Lush desert-scapes, winding around natural rock formations, give the course a serene atmosphere. Giant boulder formations add to its unique terrain.
The resort offers many amenities; dining options, luxury accommodations and a pampering spa. Golfers have been visiting since 1985, when the course was first opened.
Major championships such as the PGA Senior Slam, Andersen Consulting World Championship of Golf and Franklin Templeton Shootout have all been held at The Boulders Resort and Spa South Course. A testament to its quality and prestige.
Finding the resort is not easy! But its giant rocks are unmistakable.
Location of The Boulders Resort and Spa
The Boulders Resort and Spa, situated in Carefree, Arizona, is an enchanting paradise surrounded by captivating Saguaro cactuses and breathtaking mountains. Those looking for outdoor fun will find plenty to do here, including hiking and golf.
It's just a 35-minute drive from Phoenix Sky Harbor International Airport. Or, for guests who prefer a bird's-eye view, a private helicopter landing pad is available.
The area is also close to top dining destinations, art galleries and shopping centers, making it the perfect spot to immerse yourself in the genuine southwestern atmosphere.
Upon arrival, you'll be amazed by the huge granite boulders spread across 1,300 acres of pristine Sonoran desert. For those seeking unique experiences, try hot-air balloon rides or indigenous spa treatments.
Want luxurious accommodations, an incredible backdrop, and extraordinary outdoor amenities amidst nature's warm hues? Look no further than The Boulders Resort and Spa – a true sanctuary for all your senses!
Accommodations at The Boulders Resort and Spa (South Course)
The Boulders Resort and Spa, South Course boasts luxurious and one-of-a-kind lodgings. Guests can admire the picturesque Sonoran Desert view from their private patios or balconies. The resort offers a range of upscale rooms and suites tailored to individual needs. With modern amenities such as free Wi-Fi, fridges, and flatscreen TVs, each room is elegantly designed.
Guests can select from Casitas and Villas. Casitas are an assemblage of adobe-style units with exquisite furnishings. Villas provide more space for families or bigger groups with full-sized kitchens, living areas with fireplaces, and bedrooms with en-suite bathrooms.
Moreover, all visitors have access to superior facilities such as heated outdoor pools with cabanas, spa treatments, and Technogym®-equipped fitness centers. Plus there's tasty dining options nearby.
The Boulders Resort has a fascinating history. It began in 1959 when Charlie Keating Jr., an American businessman purchased two homes on land leased from Arizona State Trust Land in Scottsdale's Carefree area. He created El Pedregal, which transformed into The Boulders Resort in 1985 after joining forces with Club Corporation of America. So come for a stay and enjoy the delicious cuisine!
Dining options at The Boulders Resort and Spa (South Course)
At The Boulders Resort and Spa (South Course), you can choose from a range of dining options to suit your appetite! Here are six:
The Grill Kitchen and Bar has cocktails, light bites and seasonal entrees with stunning views.
The Palo Verde Restaurant has upscale Southwestern-inspired dishes.
Outdoor dining? Spotted Donkey Cantina!
Prefer in-room dining? Go for it!
The Bakery Café has coffee, pastries, sandwiches, salads and more.
Private dining is also available for groups seeking a special setting.
Fresh ingredients come from local farms! Enjoy farm-to-table dishes that are unique to the resort.
Pro Tip: To avoid disappointment, make a reservation during peak season!
Golfing? South Course at The Boulders Resort and Spa – become a human golf ball!
Amenities and activities at The Boulders Resort and Spa (South Course)
This luxe desert resort has tons to do! Enjoy the award-winning golf course, pamper yourself at the spa, relax in one of the pools, stay active with tennis courts and hiking trails, and dine at six on-site restaurants. Plus, check out the nearby Desert Discovery Center.
For something special, do sunrise yoga on a boulder, take a hot air balloon over the Sonoran Desert, or stargaze with an astronomy expert for a truly unforgettable experience.
Ready for a rockin' good time? Tee off on The South Course at The Boulders Resort and Spa!
The South Course at The Boulders Resort and Spa
Located in the picturesque Carefree, Arizona, the prestigious Boulders Resort and Spa offers the impressive South Course, offering its guests a challenging yet breathtaking golf experience. With undulating terrain and stunning rock formations, this course requires strategic play and impeccable hitting skills. The fairways and greens are kept in pristine condition, adding to the overall appeal of this golf course.
Designed by renowned golf architect Jay Morrish, the South Course boasts unique features such as the signature finishing holes, which require players to navigate through cascading waterfalls and lush plant life. The course also offers multiple tee boxes to accommodate golfers of all skill levels and make their experience enjoyable.
Not only does this golf course offer an excellent golfing experience, but also a view of the surrounding Sonoran Desert's natural beauty. The distinct landscape of this area is highlighted by the mature saguaro cacti, jagged cliffs, and shimmering lakes. The South Course is undoubtedly a feast for the eyes as well as a test of golfing skills.
The South Course at The Boulders Resort and Spa has been graced by famous golfers such as Phil Mickelson and Jack Nicklaus. The course has hosted various major golf tournaments, including the Senior Slam in 1992 and the Wendy's Three-Tour Challenge from 1992 to 1999. Its rich history and exceptional playing experience make it one of the most sought-after golf courses in Arizona.
Forget sand traps, this course will have you navigating boulders big enough to make Stonehenge jealous.
Features of the South Course
The South Course at The Boulders Resort and Spa is an unforgettable experience!
Renowned designers Jay Morrish and Tom Weiskopf crafted the course with staggered fairways, intricate bunkering, and desert-style landscaping with thousands of cacti. Plus, jackrabbits can be seen around the greens. This course encourages players to take risks and compete with fellow golfers.
Unique features include stunning views of the Sonoran Desert, with every bend in the greens providing an opportunity to appreciate the natural beauty. One golfer recalls hitting over rocks and watching his ball roll towards the hole, surrounded by ancient saguaros and steep canyons.
Playing at The South Course was an incredible experience that should be on every golf enthusiast's bucket list. Wrestling an alligator with a toothpick is an apt analogy for this challenging yet enjoyable course.
Difficulty level of the South Course
The South Course at The Boulders Resort & Spa is moderately challenging. It has narrow fairways, plus bunkers strategically placed to help you navigate. You'll also enjoy the stunning views of the Sonoran Desert, and the diverse wildlife like coyotes and bobcats!
To make the most of your experience, bring extra golf balls as there are water hazards. Plan your approach shots carefully, as several greens have subtle contours. Wind direction is also important- get your club selection right and you'll ace it! Booking a reservation here is almost as difficult as getting a spot at the trendiest restaurant in town.
Tee times and reservations for the South Course
Golfers, ready for a unique desert-style golfing experience with stunning mountain views? Then book today at The Boulders Resort and Spa's South Course! Here's what you need to know:
Pick a time: Tee times run from 6:30 am – 2 pm, during peak season (October – May).
Connect: Call The Boulders golf department on (480) 488-9028.
Share your details: Number of players, date and time, extra requests.
Confirm: Ask the rep for their name and all details.
Arrive on time: Don't miss out!
Unforgettable golf awaits – book now!
Golf packages and specials at The Boulders Resort and Spa (South Course)
Head to The Boulders Resort and Spa (South Course) for an unforgettable golfing experience! Choose from exclusive packages that cater to individual needs:
The Stay & Play package with luxurious accommodation and 18 holes of golf.
A custom package combining spa treatments and golf.
Unlimited Golf Package with unlimited access, 30 day advance booking and fitness center access.
Three Lesson Tee-Off Package with PGA instructor assessment and personalized lessons.
The Couple's Getaway Package featuring deluxe accommodation, special turndown service, dining discounts and complimentary access to amenities.
Sunrise or sunset rounds available with special early-bird or twilight rates – book up to three days in advance.
Plus, adults-only pools and boulder formations, and Four Star Hotel accolade from Forbes Travel Guide. Fore-get your worries and enjoy the adventure!
Reviews and recommendations for The Boulders Resort and Spa (South Course)
This article is about The Boulders Resort and Spa's South Course. Visitors who have played there give it rave reviews! They say it is well-maintained, with beautiful landscapes and suitable for players of any ability. Furthermore, the staff are friendly and amenities are great.
What really stands out is the course's unique design. It is set amongst incredible boulder formations, with undulating fairways between them. Players get a visual treat with each hole. Plus, the course blends into the natural environment perfectly.
Occasionally, visitors complain of slow play during peak times. However, this is just a sign of the course's popularity. After all, it has hosted professional tournaments like the US Senior Open championship.
In conclusion, golfers should definitely check out The Boulders Resort and Spa's South Course. It offers a challenging yet enjoyable experience amidst stunning desert scenery.