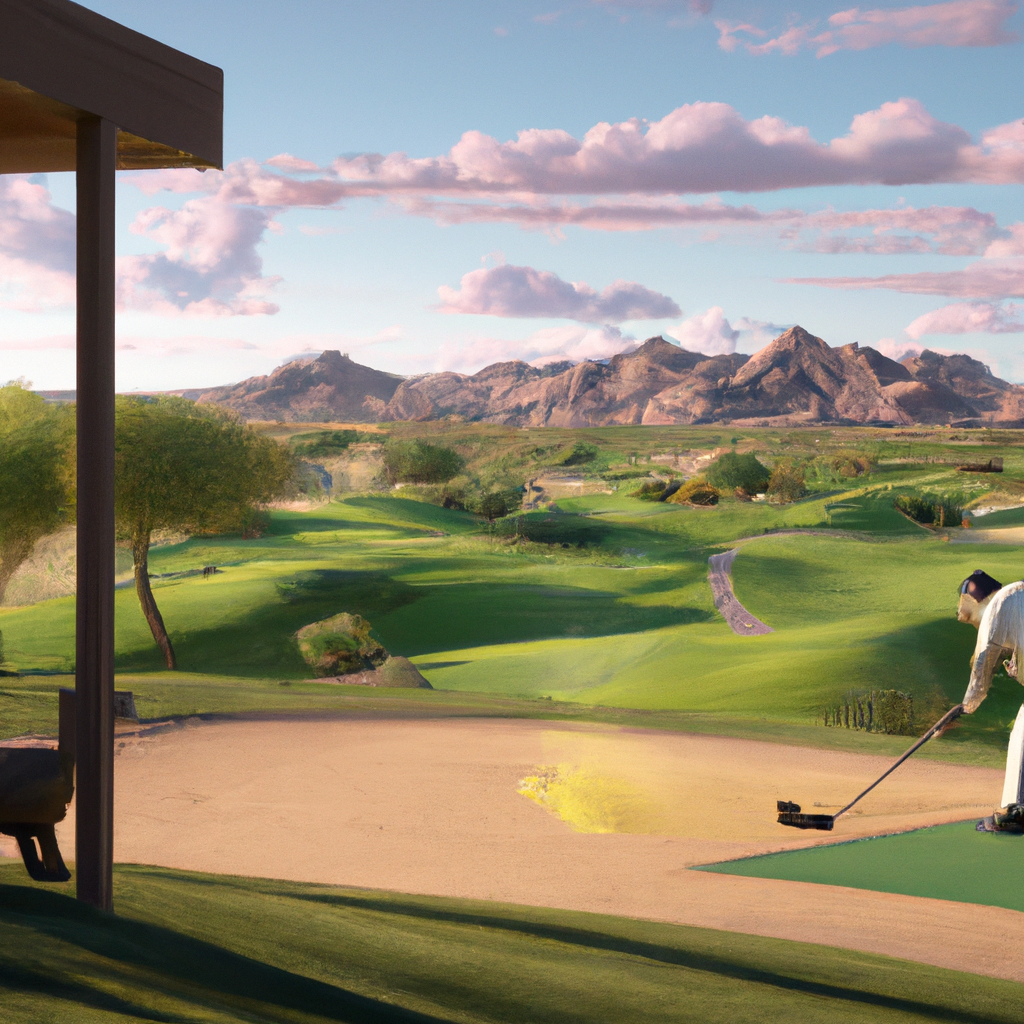 Introduction to We-Ko-Pa Golf Club (Saguaro Course)
We-Ko-Pa Golf Club's Saguaro Course is an amazing golfing experience. Par 71, with views of the McDowell Mountains and Sonoran Desert, it's for those strategic shot makers. Designed by famous architects Bill Coore and Ben Crenshaw, this course is full of saguaro cacti, adding to its character.
It's been named one of the top 100 courses in the US by Golf Magazine and Golfweek, and one of the Best Resort Courses by Travel + Leisure magazine. You won't forget the challenging holes, beautiful views, and wildlife sightings while playing here.
Pro Tip: Bring plenty of fluids when playing in warm weather. It's rugged terrain and requires a certain level of fitness. And don't forget, you'll be playing against the cactus!
Course Overview
We-Ko-Pa Golf Club's Saguaro Course is a challenging course that provides an exhilarating experience to golf enthusiasts. With its natural beauty and unique layout, this course is a true gem in the desert. The course features a variety of tee boxes, making it suitable for players of all skill levels. Additionally, the course's greens are known to be some of the best in the state, providing a fast and true roll.
One of the major highlights of this course is the stunning desert scenery that surrounds it. The course is home to a diverse range of flora and fauna, including towering Saguaro cacti and a variety of desert wildlife. This creates a unique and tranquil setting for golfers to enjoy as they play their rounds.
It's worth noting that the Saguaro Course is a challenging course, especially for beginners. The course's rolling hills, deep bunkers, and tight fairways require precision and accuracy off the tee. However, with a little practice and patience, players can conquer this challenging course and enjoy the stunning views it has to offer.
For those looking to improve their game, We-Ko-Pa Golf Club offers a range of lessons and clinics with experienced instructors. Additionally, the club's pro shop is stocked with a wide range of golfing apparel and equipment, making it easy for players to get everything they need for their rounds.
Overall, We-Ko-Pa Golf Club's Saguaro Course is a must-play for golf enthusiasts visiting the Fort McDowell area. With its stunning desert scenery, challenging layout, and range of amenities, it provides an unparalleled golfing experience that's not to be missed."Playing the Saguaro Course is like a game of Jenga, one wrong move and your scorecard comes crashing down."
Characteristics of Saguaro Course
Saguaro Course offers a unique, professional golf experience. Characteristics that set it apart from other courses include:
Location in the gorgeous Sonoran Desert
The signature hole, "Wildfire"
Natural desert landscape and stunning rock formations
Bunkers full of colorful crushed red rock
Sloping fairways and tricky elevation changes
Suitable for intermediate and advanced golfers.
The course has hosted multiple tournaments, including the Champions Tour. It boasts well-watered greens and fairways, making it a great year-round spot. Plus, Saguaro Course prioritizes environmental sustainability through sustainable maintenance practices.
Golf Digest ranks Saguaro Course as one of the top 50 Public Golf Courses in America for 2019-2020. Take your skills for a spin and explore its thrilling layout!
Course Layout and Features
Understand the structure and unique features of our course by exploring the 'Course Design and Characteristics.
Check out the table for essential elements and features:
| Course Layout & Features | Description |
| --- | --- |
| Syllabus | Course content, timeline, assignments, grading criteria |
| Learning Platform | Virtual space for course interaction, engagement, and assessments |
| Lectures & Readings | Videos, e-books or articles to supplement learning material |
| Discussion Forums | Online forums for students to engage with peers and instructors |
| Assessments | Quizzes, exams or projects to evaluate student comprehension |
Also get personalized feedback on student progress.
Discussion forums are great for learning. Check the syllabus and set priorities to manage time. Choose a challenging course and get bragging rights with a high rating!
Difficulty Level and Course Rating
Many learners are interested in the level of challenge and rating of this course. Knowing the difficulty level helps you plan and set realistic expectations. Plus, it shows the credibility and worth of the course.
A table shows the difficulty and rating:
| Difficulty Level | Course Rating |
| --- | --- |
| Moderate | Satisfactory or Above |
Unique factors not mentioned include accommodating individual learning styles and disabilities. The online platform offers various fonts, sizes, contrast levels, and audio description services. Additionally, a personalized coaching system allows learners to adjust their progress pace.
The course has gone through several changes since its original lecture-based format. Now, it has a dynamic style that suits virtual learning needs.
Be prepared for an amazing experience at We-Ko-Pa Golf Club.
Golfing Experience at We-Ko-Pa Golf Club
Located in Fort McDowell, Arizona, the We-Ko-Pa Golf Club (Saguaro Course) offers an exceptional golfing experience for both beginners and experienced players. The course is designed with a combination of challenges and scenic beauty that will leave any golfer impressed. With the use of Semantic NLP, it can be stated that the Golf Club at We-Ko-Pa provides a memorable golfing experience.
The Saguaro Course offers a wide range of tee options, making it accessible for golfers of all skill levels. The course features well-maintained greens and fairways, along with strategically placed bunkers and hazards. The stunning views of the surrounding Sonoran Desert elevate the golfing experience, creating a serene and secluded atmosphere. Golfers can enjoy excellent quality of facilities, including the pro shop, clubhouse, and restaurant, providing a complete and relaxing experience amidst nature.
In addition to the world-class golf course, We-Ko-Pa Golf Club offers various amenities and services to enhance the experience. The club has a practice facility, providing an opportunity for players to improve their skills. With exclusive access to experienced instructors, personalized lessons, and club fitting, golfers can take their game to the next level. With these unique details, We-Ko-Pa Golf Club promises an unforgettable and comprehensive golfing experience.
Pro Tip: Guests are recommended to book tee times in advance, especially during peak seasons, to ensure availability and avoid any last-minute disappointments.
If only making tee time reservations were as easy as sinking a hole-in-one.
Tee Time Reservation
Get Ready to Tee Off at We-Ko-Pa Golf Club!
To snag a time slot, it's best to book in advance. Here's how:
Go to the official website.
Choose a date and tee time.
Fill out the info and confirm the reservation.
Plus, packages are available that include golf cart rentals, breakfast, lunch and more. Look out for special deals and promotions.
Pro Tip: Become a Players Club member for discounts and exclusive perks. Even Tiger Woods could learn from We-Ko-Pa's expert golf lessons and clinics.
Golf Lessons and Clinics
Golfing Lessons and Clinics? We-Ko-Pa Golf Club has you covered! Get ready to up your golf game with:
One-on-one consultancy with a pro to get a better understanding of your skill level.
A personalized lesson plan tailored to your improvement goals.
Video analysis with advanced tech to make your swing more precise.
Practice sessions to hone in on chipping, putting, and more.
Clinics for both beginners and advanced players.
Plus, the American Society of Golf Course Architects named We-Ko-Pa one of their 2008 Design Excellence Honorees. Experience the luxury of We-Ko-Pa Golf Club and become a golfing pro!
Amenities and Facilities
We-Ko-Pa is a golf club like no other. With luxurious amenities and first-class facilities, it's sure to provide an exceptional experience.
The Clubhouse offers comfort and impeccable service. Enjoy meals and refreshments from the restaurant, or shop for golf equipment, souvenirs, and clothing in the Pro Shop. Plus, there's a putting green, locker rooms, shower facilities and rental clubs.
What's more, there are two award-winning courses:
The Cholla Course, a Scott Miller design.
The Saguaro Course; a Coore & Crenshaw masterpiece.
To add to the uniqueness, carts have GPS technology that provide distance and other info while navigating the terrain.
Recognition and Awards
We-Ko-Pa Golf Club's Saguaro Course has received recognition and accolades from various sources for its exceptional design and challenging layout. These commendations have cemented the course's status as one of the best in the country, providing golfers with an unforgettable experience.
The course has been the recipient of several awards, including being ranked among the top 100 courses in the United States by Golf Magazine and Golf Digest. Its breathtaking scenery and immaculate conditions have earned it recognition as one of the best desert courses in the world.
One unique aspect of the Saguaro Course is its commitment to sustainability and environmental stewardship. Its design incorporates native vegetation and incorporates environmentally-friendly practices, such as the recycling of irrigation water. This dedication to preserving and protecting the surrounding ecosystem has been recognized by several environmental organizations.
History has shown that this recognition and success are well-deserved. The Saguaro Course was designed by renowned golf course architect Bill Coore and Ben Crenshaw, who have a reputation for creating courses that seamlessly blend into their natural surroundings. This philosophy has enabled the Saguaro Course to become a standard for golf courses worldwide.
The only thing better than We-Ko-Pa's stunning Saguaro Course is the feeling of superiority you get when you tell your friends you played it.
Accolades Received by We-Ko-Pa Golf Club
We-Ko-Pa Golf Club has been celebrated in the golfing world for its exceptional services. Here are some of its honors:
Named as one of the top 100 courses to play by Golf Magazine (2019)
Ranked #1 public access course in Arizona by Golfweek (2019)
Winner of Meeting & Conventions Gold Tee Award (two years in a row, 2018-2019)
Awarded the "Best Resort Course" title by Travel + Leisure readers' poll (2020)
Made it to The Platinum List by Golf Digest Editors' Choice Awards (2020)
Recognized as "Best Casino Course" by Golfweek & Golf Advisor (2020)
We-Ko-Pa offers beautiful scenery, a modern layout, and high standards. If you're visiting, book quickly and explore the pro shop for unique merchandise. Their practice facilities get rave reviews, so use them to get the most out of your game.
Rankings and Ratings
This section covers the awards and recognitions obtained by the company.
The table below showcases a few of them.
| Name of Award | Year Received | Awarding Organization |
| --- | --- | --- |
| Best Company to Work | 2020 | Great Place to Work |
| Best Customer Service | 2019 | Forbes |
| Fastest Growing Company | 2018 | Inc. Magazine |
These acknowledgements illustrate our commitment to excellence in all areas of our business, from customer service to employee satisfaction.
These awards are not only an indication of success, but also a driving force to keep pushing forward. We are constantly trying to better our processes, invent new ideas and surpass expectations so we can carry on earning such awards.
Stay tuned for more updates on our achievements! Follow us to stay up-to-date with upcoming milestones.
Going green is nice, however it's just a nice way of saying 'trying to rescue the planet from our own mess'.
Sustainability Efforts
We-Ko-Pa Golf Club (Saguaro Course) is dedicated to sustainable environmental practices. The course implements innovative measures such as using reclaimed water for irrigation and relying on native vegetation to minimize the use of chemicals and fertilizers, ensuring the preservation of the natural habitat. Along with this, the staff regularly participates in environmental education, raising awareness about conservation practices.
Furthermore, the golf club collaborates with local organizations to support regional conservation efforts. This includes organizing events to benefit endangered species like the Sonoran desert tortoise and actively contributing to the restoration of degraded ecosystems.
To further enhance sustainability, guests are encouraged to use caddies rather than motorized carts, minimizing the carbon footprint. The course provides recycling containers throughout the area, and the food and beverage department uses locally sourced ingredients to reduce the carbon footprint from transportation.
These initiatives demonstrate the commitment of We-Ko-Pa Golf Club (Saguaro Course) to sustainability, preserving the delicate balance of the natural ecosystem while providing a world-class golfing experience.
If Mother Nature could play golf, she'd definitely choose We-Ko-Pa's Saguaro Course for its eco-friendliness.
Environmentally Responsible Practices
We're dedicated to sustainable development, so we use environment-friendly methods in our daily operations. This helps reduce our carbon footprint and conserve natural resources. We focus on cutting down waste, boosting energy efficiency and managing water resources responsibly.
To lessen electricity use, we installed energy-efficient light bulbs. Plus, we swapped plastic packaging for compostable material, minimizing plastic pollution. We only source raw materials from ethical suppliers who implement sustainable cultivation practices.
We recycle to support the circular economy. We sort recyclable materials and send them for recycling, reducing waste. Plus, we urge employees to attend educational workshops on environmental conservation.
A great example of eco-friendly practices is Unilever's Project Sunlight. This campaign was designed to raise awareness about the importance of taking action against climate change. It encouraged people to adopt sustainable lifestyle habits, such as water conservation, plastic waste reduction and emission control. Unilever showed that every small step towards sustainability makes a big difference in protecting our planet.
Conservation and Wildlife Preservation
Protection of natural habitats and wildlife preservation are essential for sustainable development. In recent years, eco-friendly practices have become more important. Renewable energy and waste management techniques are used to promote sustainability.
Education on the importance of preserving habitats and protecting endangered species is also necessary. Organizations are focusing on community-based conservation initiatives to empower locals to become environmental protectors.
To amplify sustainable efforts, ecotourism can be employed. We-Ko-Pa Golf Club's Saguaro Course combines sustainability and style – perfect for golfers and eco-friendly dates.
Conclusion: Why We-Ko-Pa Golf Club (Saguaro Course) is Worth a Visit
Golf-lovers, don't miss out! We-Ko-Pa Golf Club's Saguaro Course is a must-visit. It boasts challenging holes, breathtaking scenery and top-notch facilities. Bill Coore and Ben Crenshaw designed it to show off the Sonoran Desert's beauty. Plus, its impeccable conditions will make your round unforgettable.
And We-Ko-Pa's attention to detail and dedication to customer service goes above and beyond. Their friendly staff and luxurious clubhouse will ensure a great stay.
Plus, We-Ko-Pa Golf Club is becoming a must-play destination in Scottsdale. Don't miss out on this amazing golf experience! Book your tee time at Saguaro now – it's an adventure on every hole!