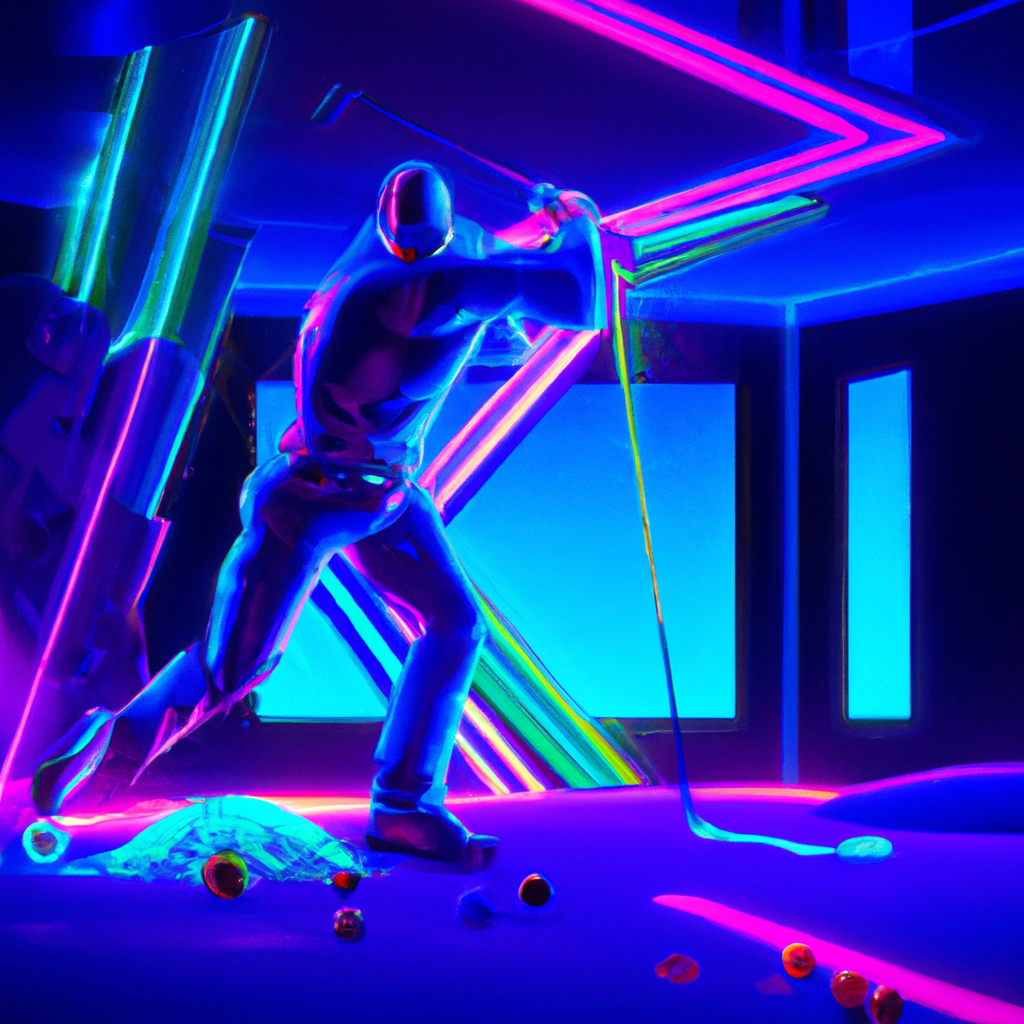 Advancements in Golf Entertainment
Golf Entertainment has come a l-o-n-g way! Technological innovations have revolutionized the industry. Golf Simulators are the next big thing, giving players and enthusiasts a unique, immersive experience. Beyond traditional methods, there are advancements that enhance skills, accuracy, and interactivity. These can make regular practice sessions fun.
According to Golf Digest, the global market for golf simulators is predicted to go over a billion dollars by 2026. Hooray – now golfers can improve their swing without a massive audience seeing them shank it into a water hazard.
Importance of Golf Simulators
To understand the importance of golf simulators in golf entertainment, explore their benefits, including the convenience of playing indoors, access to various courses and playing conditions, and immediate and accurate feedback. These sub-sections of the article will provide you with solutions to enhance your golfing experience, regardless of time and place.
The Convenience of Playing Golf Indoors
Golf simulators are the perfect way to play golf indoors with advanced tech! With virtual greens, realistic ball physics, and club tracking, you can experience the same level of excitement as outdoors. You'll never have to worry about disturbing anyone or adjusting your game based on the weather.
Plus, customize your gameplay with settings according to your skill level. From beginners to pros, everyone can benefit from using these simulators.
Data analysis is another great advantage of using golf simulators. Track your club speed, ball trajectory, and swing accuracy. Use specialized software and sensors to identify weaknesses and develop strategies accordingly.
Don't miss out on the convenience and comfort of playing golf indoors with advanced technology. Invest in golf simulators and experience a game-changing approach to practicing right from your home or office! Why travel to Scotland for a round of golf when you can simulate it in your living room and still enjoy a dram of whiskey?
Access to Various Courses and Playing Conditions
Golf simulators offer many perks beyond just improving your game. One such advantage? The chance to explore different courses and playing conditions without having to go far! Here's a list of some of the courses available in a simulator:
| Course | Location | Type of Environment |
| --- | --- | --- |
| Augusta National Golf Club | Augusta, GA | Hilly terrain, varied landscape |
| Pebble Beach Golf Links | Pebble Beach, CA | Coastal views, ocean breeze |
| St. Andrews Links – Old Course | St. Andrews, Scotland | Classic links style course |
Golfers can use simulators to try out courses they may not have access to and to prepare for upcoming tournaments. They can also use different equipment and techniques in the simulated settings, to better their game.
Plus, simulators offer more than just top-notch courses; they let you schedule rounds based on your preferences and adjust the weather and lighting conditions.
Forbes reports that the indoor golf market has grown by over 25% year-over-year since 2016, showing the demand for easier ways to enjoy the sport.
So, golf simulators offer a great way for players to access various courses and playing conditions, while improving their game in the comfort of an indoor setting. Plus, you get to know right away if your swing was successful, without relying on your friends' lies or the ball's whereabouts.
Provides Immediate and Accurate Feedback
Golf simulators are essential for golf training. They offer immediate & accurate performance feedback based on the player's swing, like speed, angle, curvature, spin rate & trajectory. This data helps players identify weaknesses & improve them.
The simulators also offer a realistic environment & the ability to practice under different course conditions. Plus, advanced analytics let players analyze their performance history & create customized practice plans.
But that's not all! Golf simulators also offer endless entertainment. Compete with others or virtually play on famous courses. This adds fun & increases competitiveness.
To get the most out of your simulator, invest in a high quality one with modern tech & calibration. Use accessories like gloves & clubs that match your preferences. Then, seek help from experienced coaches to utilize these technologies effectively.
In conclusion, golf simulators provide immediate & accurate feedback while offering endless entertainment opportunities. Utilize them efficiently & get expert guidance to improve your game. Get ready for a hole in one!
Features of Golf Simulators
To explore the features of golf simulators with "High-Quality Graphics and Displays,Accurate Swing Analysis, and Multiplayer Options" as solutions for golf lovers.
High-Quality Graphics and Displays
Golf simulators are a modern-day miracle! Enjoy a lifelike gaming experience with exceptional visual quality and display. High-res projectors, immersive visuals, and landscape-mimicking projection surfaces give players a realistic experience.
Data analysis tools provide instant feedback on shot accuracy, spin rate, and other metrics. These can be displayed alongside graphics for real-time reflection. Get the most out of this feature by investing in a high-quality projector. Make sure your simulator has enough space for projection, too.
Modern golf simulators are great for training purposes. Display data-driven analyses of your playing techniques and see results! Don't deprive yourself of experiencing this fantastic innovation firsthand – invest in a golf simulator today!
Accurate Swing Analysis
Accurately analysing the swing motion is a key element in golf simulators. Technology used gives precise feedback on swing mechanics – vital for getting better at the game.
Multiple high-speed cameras placed around players in the simulator allow for an overall view of the entire swing sequence. This provides golfers with a full understanding of their movement patterns and identifies areas that need to improve.
Clubhead Speed, Launch Angle and Ball Spin Rate are some measured values that are analysed by algorithms, giving golfers accurate info to adjust their swing mechanics.
Golfers should review data after each session to fully benefit from this feature. Working with a coach or trainer can help to pinpoint particular areas to focus on and create a personalised training plan.
Why not take the competition up a notch with multiplayer options? Play with friends virtually and see who comes out on top!
Multiplayer Options
Social Gaming Experience for Golf Lovers
Multiplayer options in golf simulators offer great benefits. Here are six of them:
Play together – Players can connect, regardless of location.
Reach a broader audience – Players can link with other golf lovers from different places.
Realistic competition – Multiplayer gaming creates an exciting atmosphere.
Better Analysis – You can observe your opponents' shot choices, and improve your strategy.
Supportive Community – Leaderboards and forums help create a positive environment.
Improved Technical Skills – Playing against others helps to develop broad technical skills.
Thanks to these options, golf fans can now have similar experiences online, even if they are stuck at home due to bad weather or the coronavirus.
Here's a few tips to get the most out of multiplayer gaming:
Join online communities or forums to learn from other golfers.
Ask experienced players for advice.
Beginners can get personal tutorials, while professionals can work on their skills with more experienced peers.
No need to go outside! Improve your swing in the comfort of your home.
Benefits of Golf Simulators
To explore the benefits of golf simulators, dive into cost-effectiveness, year-round availability, and suitability for all skill levels. With these solutions, you can discover why golf simulators are the next significant innovation in the world of golf entertainment.
Cost-Effective
Golf Simulators – A Pocket-Friendly Option!
Golf lovers can now enjoy their game without breaking the bank. Golf simulators are a cost-effective alternative to traditional golf courses. They offer an immersive experience that mimics the real thing. So, you don't need to pay for green fees, caddies or extra costs!
Not only are they pocket-friendly, but they also come with other financial benefits. No travel required, no costs for accommodation or meals. Plus, they minimize damage to equipment like clubs and balls – protecting you from costly repairs.
You don't need any memberships either. Play in the comfort of home or office – whenever you want!
If you haven't tried a golf simulator yet, it's worth considering for its convenience and affordability. Say goodbye to unpredictable outdoor golfing expenses! Try this innovative technology today!
Year-Round Availability
Golf simulators provide a player the chance to experience the game all year round, no matter the weather. Rain or shine, you can swing away in a virtual environment.
These simulators offer more than just teeing off. Players can adjust variables such as wind speed, slope, and distance to hone their skills quickly. It's an immersive experience for all skill levels!
Many have experienced improved scores and higher confidence on the real courses after using simulators. One golfer said they kept their love for the game alive during off-seasons with the help of simulator sessions.
Golfers, don't worry about missing out due to bad weather. Golf simulators make it easy to practice, improve, and engage with other players year-round– even if you're the most uncoordinated person!
Suitable for All Skill Levels
Golf simulators are perfect for golfers wanting to improve their game, or just starting out. They allow you to practice various courses and weather conditions any time of year. They are suitable for all levels and offer advantages such as data on ball speed, direction, spin rate, and distance traveled. Plus, you don't have to worry about course fees or travel. You can customize your session with adjustable tees, targets, hazards and fairway length.
Simulators have been around for over 30 years and are now more realistic than ever with 3D imaging and augmented reality. Get ready to become the next Tiger Woods with the amazing technology of golf simulators!
The Future of Golf Entertainment
To explore the future of golf entertainment with a focus on golf simulators, this section highlights the increasing popularity of golf simulators and their integration with virtual reality technology. In addition, this section will briefly touch on the potential for global expansion that golf simulators offer.
Increasing Popularity of Golf Simulators
Golf Simulators: An Evolution in Golf Fun!
Golf entertainment has changed drastically over time, with golf simulators being a hot trend. Five ways simulators have become popular:
Convenience: Play golf anywhere, anytime, with indoor setups and virtual courses.
Cost-Effective: Optimized tech reduces or eliminates expenses for course maintenance and club fees.
User Experience: High-def graphics on huge displays create realistic gameplay.
Accessible: Not just for pros or hobbyists, but for all ages and skill levels.
Data Analysis: Advanced golf simulators generate precise data to help players improve.
Plus, many high-end establishments now offer simulators as amenities.
Pro Tip: Add real-life elements like scenery, hazards, weather to the gameplay. Golf just got way more exciting with virtual reality! Now you can ace your game without even leaving the house.
Integration with Virtual Reality
Golf and Virtual Reality (VR) are merging to cause a huge change in the entertainment industry. VR offers immersive experiences for players, improving how they interact with the sport in new ways.
A table displays the positive effects of VR and golf. Modeling software lets golfers play on digital versions of real world courses from different places. Moreover, interactive VR simulators make the gameplay even better.
Motion capture technology makes gestures, postures, and stances during gameplay realistic. This will motivate players to engage with the game and helps newcomers to join in.
The first virtual reality golf game was Panel Attack Golf in 1990, created by World Tour Golf Inc. Now, Veriety Golf and Futureyard have made golf games available on different gaming systems (PC and PlayStation).
Golf are utilizing VR to get more young people interested, combining physical and digital worlds. Cooperating with traditional sports brings classic forms of entertainment into the modern age. Golf may have started in Scotland, but it's ready to expand all over the world!
Potential for Global Expansion
Golf is evolving! It's a mix of skill, strategy and sportsmanship, drawing interest from athletes and spectators around the world. Tournaments and players are becoming more widespread, and tech advances are leading to virtual golf!
Online platforms and gaming are taking golf entertainment to a whole new level. Players can compete in immersive experiences without leaving home. But this worldwide expansion requires increased accessibility. Golf courses aren't available everywhere, so indoor facilities that mimic outdoor courses could make golf more accessible globally.
And it seems to be working – over two million Americans start playing golf each year according to Golf Digest!
Conclusion: The Rise of Golf Simulators in Entertainment
Golf simulators are becoming popular among players and enthusiasts. They offer a realistic experience of playing golf indoors, with comfort and convenience. You can play some of the world's most famous courses without leaving home!
These simulators provide various benefits too. They help improve swing mechanics, analyze shot accuracy and track stats. Plus, they make golf more accessible to people living in remote or urban areas.
Demand for indoor entertainment is rising due to weather restrictions and environmental concerns. Companies are investing resources into developing and marketing these high-tech solutions.
If you haven't tried hitting a ball into a virtual course using top-of-the-line simulators, you're missing out! Step into virtual reality and explore a new way of playing golf. It could change your approach to the sport forever!